Crude Oil (CL) futures fakeout from last week as price rallies back into the Parabolic channel.
The Bears have a 1-2-3 reversal and resistance zone to work with.
Bulls have an Inverse Head and Shoulders and the Parabolic channel in their favor.
Dead Cat Bounce
After we saw CL drop below $76.25 last Monday, the probabilities were in favor of a further price drop. However, we see it was ultimately a fake out, and the November 28th session was bid back up, forming a spinning top. The following day was a large-bodied green candle that pushed the price back into the parabolic channel.
What Next?
Bear Case
The 1-2-3 reversal with the target of $67.98 is the main driving technical force we currently see on the charts. There is a resistance zone that CL is currently trading within, which could be the area for short sellers to enter. Bears will need to gain a lot of strength to push the price back below the spinning top from Last Monday. If we see that happen, then there is a high probability that the price will continue to fall toward $67.98.
Bull Case
If sellers fail to send the price lower and we see CL remain within the parabolic channel, then the major target for Bulls will be $90. Mathematically speaking, the price is currently trading within 50% of either target, which means there's an equal probability of each target hitting regardless of technical analysis.
The potential Inverse Head and Shoulders pattern on the 4 hourly is not a perfect H&S, but it's something to keep note of.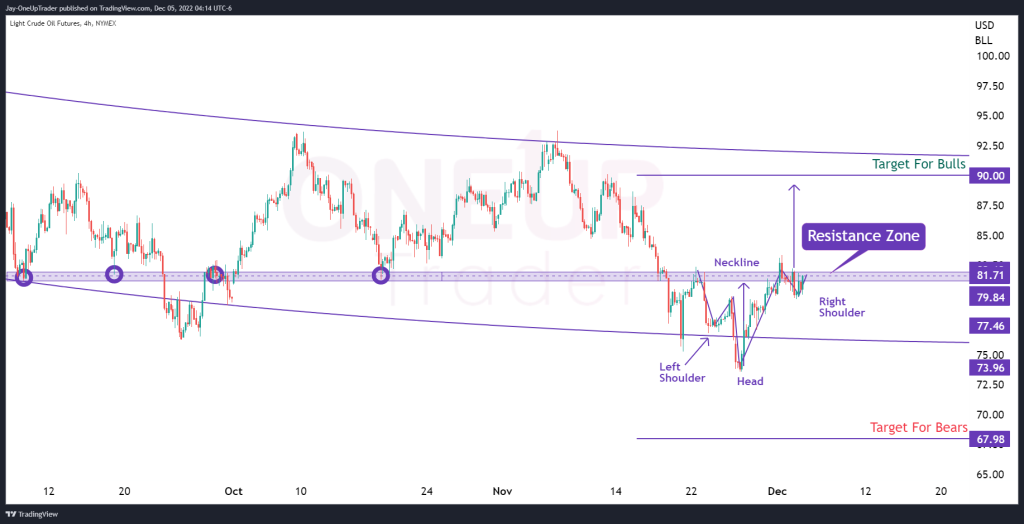 Summary
CL has had very unpredictable price action recently. With more catalysts hitting the market soon, such as the EIA inventory report on Wednesday and the FED meeting on December 12th, we could see volatility skyrocket. There are potential setups for both the bears and the bulls. At the moment, bulls are in control of the 4-hourly time frame, and if the price rally above the Neckline at $81.71, then we could see a swift run up to $90. If the resistance holds, however, CL could test the $77.46 level before heading down to the 1-2-3 reversal target of $67.98.