The long-term 1-2-3 reversal targets are back on the cards
Short opportunities on the 30-minute chart.
The 1-2-3 Reversal Pattern
We must go back to September to view our analysis of the 1-2-3 reversal. Since the market has now broken below recent lows, the bearish target is in play. You can view that article here.
The bearish targets for the 1-2-3 reversal are $67.98. CL has recently broken below $76.25, which signals that the price momentum has become bearish. We noticed the sideways action for some time and suspected a bullish move back up to the top of the parabolic channel, especially after the dragonfly Doji formed; however, no trade setup is 100%, and it's something all traders must accept.
The 1-2-3 reversal targets line up perfectly with the major swing from the end of 2021, which has been marked on the chart below. Moving forward, the bears look in control, and based on the technicals we see on the chart, we do not see a bullish case in the short to medium term. If the price continues to slip toward the $67.98 level, we could see some support for CL.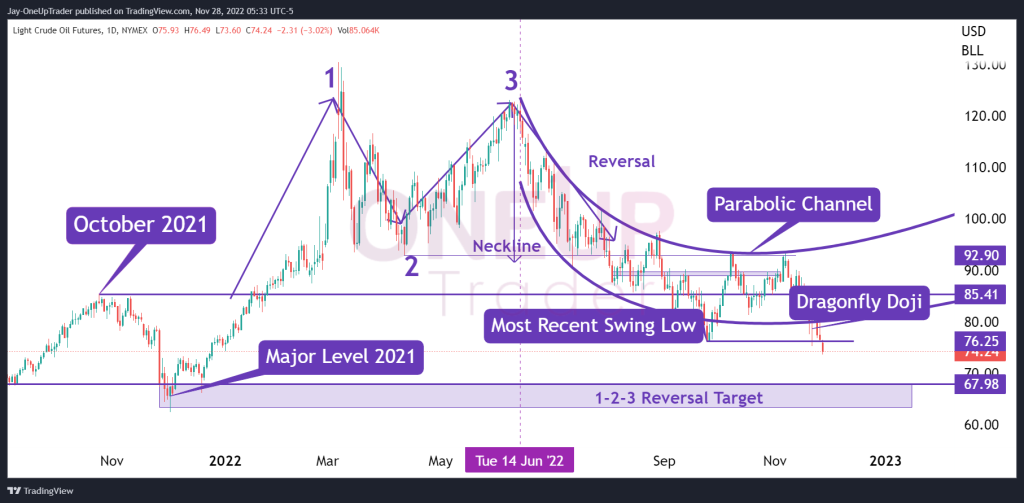 Potential Short-Term Setups
If we apply the Gaussian Channel with the settings on reduced lag and fast response, there is an opportunity for traders to short as the price retraces back into the channel. Since CL has broken below a significant level, we could see the price fall accelerate with very few pullbacks. Applying moving averages could get the same effect.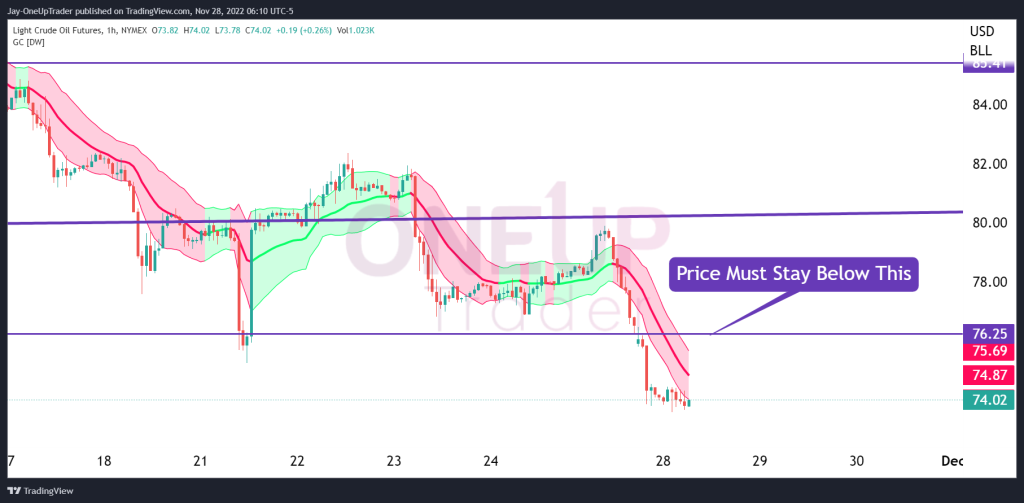 Summary
As the price momentum shifts downwards and the 1-2-3 reversal pattern is back on the card, we can expect lower prices for CL. Bears would need to see the price remain below $76.25 for the sentiment to stay strong. If the price does continue to fall, the next immediate support can be found at the $67.98 level.