Investors are growing more optimistic about China's reopening.
US firms created 263,000 jobs in November, well over estimates of 200,000.
The Fed will likely increase rates by 50bps at the next meeting.
Currency futures prices rose on Monday as the US Dollar failed to gain traction and wallowed at five-month lows. The traders downplayed the stronger-than-expected US jobs report. Meanwhile, mounting optimism about China's reopening lifted risk sentiment. This allowed currency futures to climb.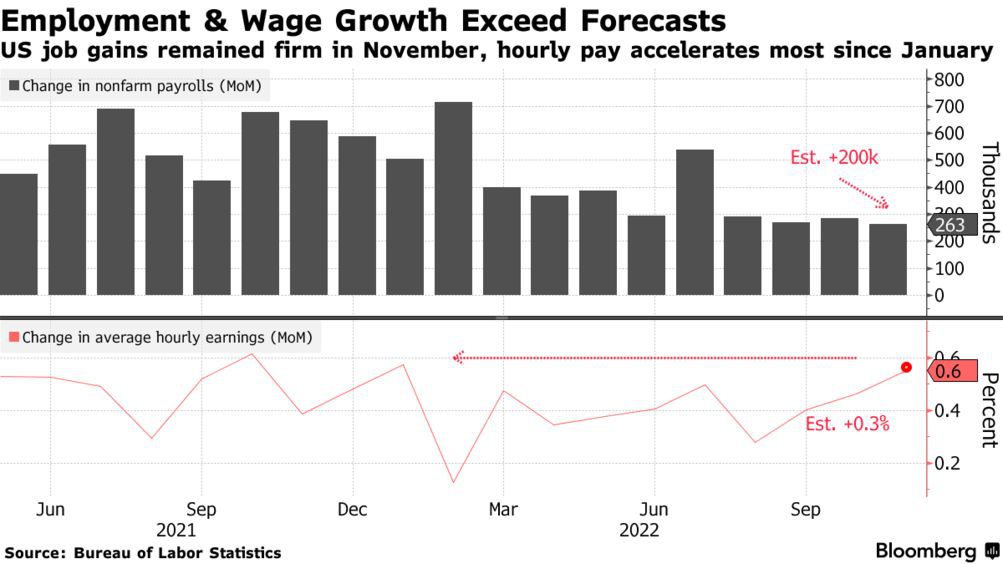 The Dollar initially rose after US data on Friday revealed that In November, US firms created 263,000 jobs, well over the estimated 200,000. It later lost ground as traders booked profits and several Fed speakers eased market concerns.
Charles Evans, president of the Chicago Federal Reserve Bank, said on Friday that the Federal Reserve would likely need to increase borrowing prices to a "somewhat higher" peak than anticipated in predictions from September. He, however, confirmed that the Fed would likely scale down on rate hikes starting in December.
The data backed the notion of a "soft landing," according to Chris Weston, head of research at Pepperstone, who noted that a 50 basis point raise next week is still the Fed's solid default stance. "We go past US payrolls with only a momentary shaking for riskier markets," he added.
According to him, the market might begin to make its own decisions and consider manipulating exposures in preparation for the next week. This is because there isn't much data to drive prices this week, and there are no Fed speeches.
The US consumer price inflation report, which is coming on December 13—the day before the Fed ends its two-day meeting—will be the main focus of attention for investors.
It's expected that the Fed will raise rates by 50bps at the next meeting. Fed funds futures traders expect the benchmark interest rate to reach 4.92% in May.
Growing expectations that China will gradually reopen, as more Chinese towns announced an easing of coronavirus limitations on Sunday, also put pressure on the dollar.
China is seeking to make its zero-COVID program more focused and less harsh in the wake of protests against restrictions last weekend. On Sunday, more Chinese cities—including the remote western city of Urumqi—announced the relaxation of coronavirus restrictions.
Malls, marketplaces, restaurants, and other establishments will reopen on Monday in Urumqi, the capital of the Xinjiang region, following months of stringent lockdowns.