US oil exports last week averaged 11.4 million barrels per day.
The weaker dollar supports oil prices by making it cheaper for overseas buyers.
US officials were forced to scale back the Russian price-cap plan.
Following a session-high increase of more than 3%, crude oil (CL) futures prices continued to surge in early Asian trade on Thursday, supported by record US crude exports and a declining US dollar.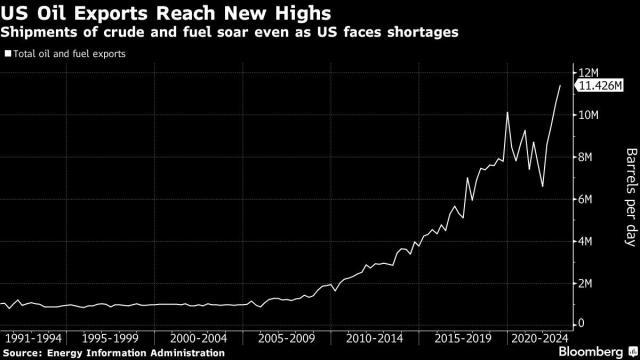 According to government figures, the US exported 11.4 million barrels of petroleum daily last week. The increase coincided with domestic fuel inventories reaching historic seasonal lows, reflecting the likelihood of a tightening supply.
The outlook for fuel supply tightened as gasoline inventories decreased and already critically low diesel inventories on the East Coast decreased further. Markets focused on the high export figure and mostly ignored a smaller-than-anticipated 2.59 million barrel growth in crude stockpiles.
The weaker dollar has also supported the price of crude. The dollar recently traded close to a three-week low, making raw materials priced in US dollars more affordable for international customers.
Crude recovered in October as the Organization of Petroleum Exporting Countries and its partners announced a significant output cut, reversing four consecutive months of losses as worries about a global downturn gained traction and central banks increased interest rates. Investors have also been assessing the possible effects of US and EU proposals to cap prices to punish Moscow for its invasion of Ukraine.
US officials were forced to cut back the price-cap plan before its probable implementation this quarter. The US and EU are now likely to settle for a more loosely policed restriction enforced at a higher price than originally intended rather than severely restricting the Kremlin's oil profits.
On global demand, some hope to see evidence of an economic recovery in China, which would help offset falling demand as recession fears spread overseas. However, the nation is still facing challenges as further evidence of macroeconomic weakness appears.
"The more recent weakness in the dollar has provided some tailwinds to the oil market while falling US gasoline inventories and record petroleum exports have only provided a further boost," said Warren Patterson, head of commodities strategy at ING Groep NV. "As for the outlook, much will depend on how the macro picture evolves, but oil fundamentals look increasingly constructive in the months ahead, which suggests higher prices."