Major Support Zone Proving to be strong on the Daily chart
Downtrend Channel on the 2-hourly chart
Potential 1-2-3 Reversal pattern on Daily Chart
What Has Happened?
Since August 31, we expected some strong support around the $1,715.3 level; we have seen that play out now with bids coming in the past week as the gold price has fallen into the support zone mentioned. Thus far, there is no sign that this level will break to the downside, so we do not need to fight the market. Traders should be cautious of taking short trades when inside the support zone. If we see a significant break-out below, our outlook will change to highly bearish.
Daily Outlook
There is a potential 1-2-3 reversal playing out on the daily chart where a low of $1,679.4 was created within the major support zone. Prices rallied up to $1,824.6 forming our 2nd point before retracing back down into the support level again with some bullish candlesticks at the current low of $1,699.1.
If we see a bounce out of this zone, we would be looking for targets of $1,739.6, which was our gap on July 28th, a more ambitious target could be the major previous high at $1,824.6.
2 Hourly Bearish Channel
Drawing a parallel channel from August 12 to August 25, we have a clearly defined downward channel that the gold price has been respecting. We see three tests of the bottom line and two so far from the top.
Remembering the major support zone mentioned above, we feel the downside is still limited until we see a significant break below. We can expect more selling pressure at that level as the market rallies because of this channel, but it will be interesting to see whether it will be strong enough to offset the buying pressure.
A break above this channel also coincides with the potential 1-2-3 reversal playing on the daily, which could add more momentum to the bullish break-out IF it occurs.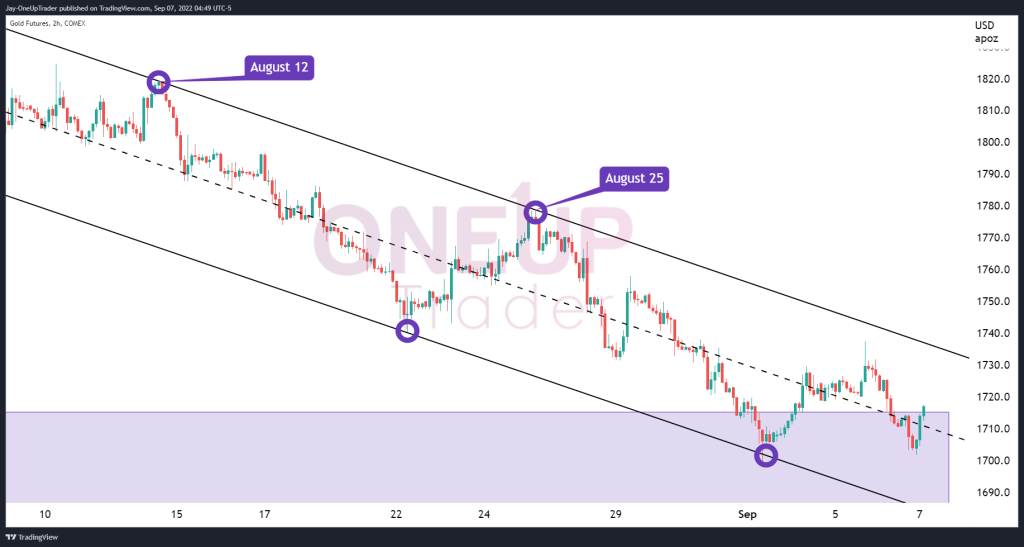 Summary
It is vital to note that the 1-2-3 reversal has not played out yet; it is only a speculation of a trade idea that could occur in the future; if it does, we will be prepared and ready to take our positions accordingly.
The major support zone still holds. The gold price is very dependent on what the US dollar does, which is all down to the Fed's monetary stance. Caution must be exercised when trading Gold, ensuring a proper risk management framework is always in place.