August saw an expansion in the US services sector.
The Fed will continue raising rates as the US economy steadies.
Benchmark US Treasury yields rose to the highest level since June.
The E-mini Nasdaq-100 (NQ) futures price closed down as traders analyzed recent economic data amid choppy trading. Tuesday marked the first session following the US Labor Day holiday and summer vacations.
According to a poll by the Institute for Supply Management (ISM), the services sector in the United States expanded in August for the second consecutive month.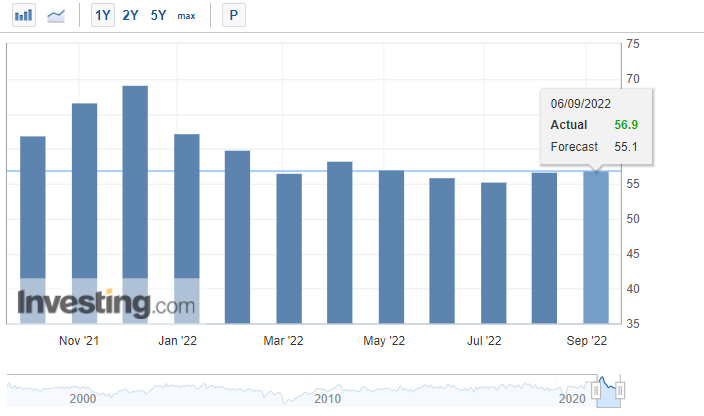 The image above shows the US ISM Non-Manufacturing PMI, which has been on a downtrend since April. The value, however, went up in August and September.
The Federal Reserve's bid to keep raising interest rates to contain inflation was bolstered by stronger-than-expected data on the US services sector. At the Fed's policy meeting later this month, there is a 74% chance of a third consecutive 75-basis-point rate hike.
"The Fed has relegated us to be very data dependent. Every piece of information that comes out, investors are going to look not only at the absolute level but try to infer what that means for when the Fed meets," said Carol Schleif, deputy chief investment officer at BMO Family Office.
"One of the things that are disconcerting to investors is that there's little to propel markets either up solidly or down solidly," she added.
According to Shawn Cruz, head trading strategist at TD Ameritrade, Tuesday's market declines were also attributed to worries about the energy supply to Europe and the potential effects of COVID-19 lockdowns on China's economy. "A lot of uncertainty and volatility is coming from overseas, not the United States,"
The E-mini Nasdaq-100 (NQ) futures, dominated by technology, made a loss for the seventh day in a row, its longest losing streak since November 2016.
As benchmark US Treasury yields increased to their highest levels since June, shares of Amazon.com Inc. and Microsoft Corp., sensitive to interest rates, declined by roughly 1%. Apple Inc. experienced a loss of 0.8%.
The speech by Fed Chair Jerome Powell on Thursday and the US consumer price data next week will be closely watched by investors for indications of the direction of monetary policy. The E-mini Nasdaq-100 (NQ) futures could fall further if inflation in the US comes in higher than forecasts.