Test of a major support zone possible
Short trade results from a retracement into the Gaussian channel
RSI oversold on shorter time frames
Daily Chart
The daily outlook has been bearish for the past six months, with prices dropping 19.27% from the peak on March 8.
The major support zone at $1,715.3 has been tested four times, and prices are approaching that level rapidly, currently trading at $1,723.
The short opportunity from the retracement into the Gaussian channel was a textbook case; anyone interested in learning about the Gaussian channel can do so from our video posted here.
The daily chart continues to show weakness, but we expect some sort of support again at the major support level at $1,715.3, which could present an opportunity to take a long trade with caution. Traders trading the daily chart that are still not short may have missed the move down.

We never want to chase prices, so a solid approach would be to wait for prices to fall into support and see the reaction in price before making any decisions.
RSI Oversold on Hourly Chart
Though bears remain in control, we cannot ignore that the RSI is very much oversold on the shorter time frames. Currently, the value sits at 27.24, below the oversold value of 30.

This does not by any means indicate that the market is going to rally, in fact, the RSI can remain oversold for extremely long periods. It is generally important, however, that traders do not enter short trades when the RSI is below 30. Instead, they may wait for it to retrace to the 50 lines before looking to initiate a short position in a trending market. This is why we say any traders that have missed the short trade from the retracement into the Gaussian channel may be chasing the market down if they short it now.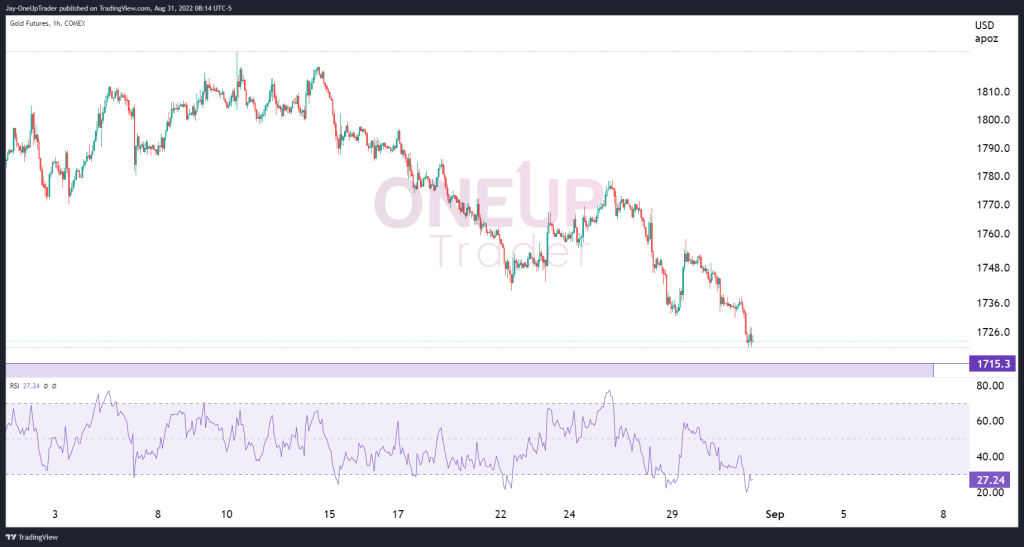 Summary
Bears remain in control as gold prices continue to fall into the support zone mentioned above. It's prudent at this point, to wait and see how the price will react within the support zone of $1,715.3-1,690.0.