The hanging man from the previous analysis yielded over 767 points
Re-cap on Bearish $70 medium-term target
Short opportunities as CL rallies into the resistance zone
767 Points Profit
The hanging man we analyzed here provided a 767-point move as CL fell swiftly below $81. The pattern has played out but is still intact and adds to the bearish sentiment we see in CL on a technical level.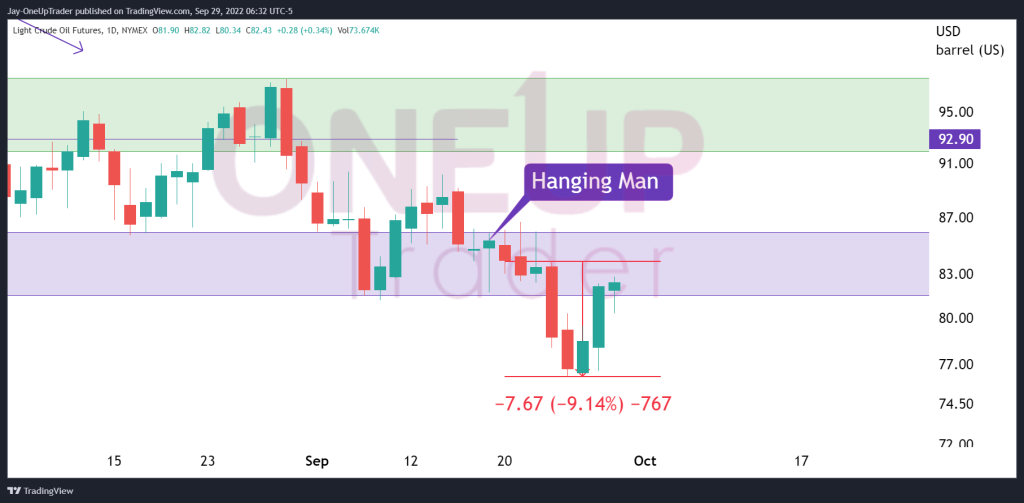 Re-cap on Bearish $70 medium-term target
As CL continues to slide, the price has retraced into the accumulation zone, which could be a great area to accumulate shorts. We are still bearish because of the 1-2-3 reversal we analyzed here. This pattern is still panning out, and we see no evidence of that going away for now. For us to change our bearish tone, prices need to rally above $86, which is above our accumulation zone; while prices trade below it, we remain bearish in our outlook.
Short Opportunities
Its well known amongst technical analysts that support often becomes resistance; the accumulation zone mentioned above would now act as resistance if that theory is to hold true. This gives short entries for bears between $81.53 and $85.88.
Summary
Bears remain in control, and there is no sign of bulls overcoming them any time soon. For us to become bullish, prices need to rally above $86. This is a technical outlook, and in today's market, anything can happen due to European conflicts. We urge traders to set well-defined stop losses and not take unnecessary risks.