A stronger dollar is restraining overseas demand for oil.
US crude inventories dropped more than analysts had anticipated.
China's demand for crude oil is expected to drop.
After rising by more than $3 the previous session, crude oil (CL) futures prices pulled back on Thursday. A strong dollar restrained demand, and market jitters over the deteriorating global economy weighed on prices. Prices recovered in the previous two sessions as expectations for a recovery in consumer demand were encouraged by a brief decline in the dollar index and a larger-than-anticipated reduction in US gasoline inventories.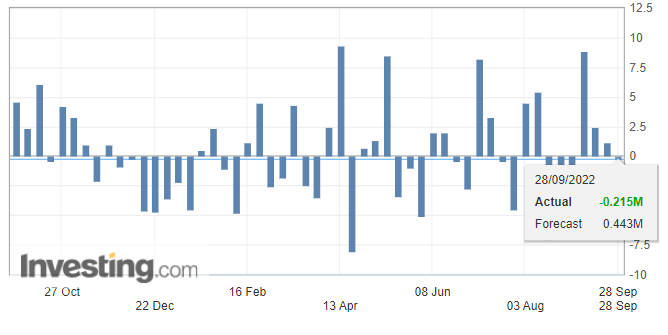 Analysts had expected US crude oil inventories to come in at 0.443M. However, it came in lower at -0.215M. This drop points to an increase in demand.
Meanwhile, the Bank of England stated it was committed to stabilizing its currency by purchasing as many long-dated government bonds, or gilts, as necessary between Wednesday and October 14. This comes after the British government's financial plans were made public last week, and the sterling fell.
Travel during the forthcoming national holiday in China, the largest importer of crude oil, is expected to be at its lowest level in years. Beijing's steadfast zero-COVID rules cause people to stay at home, and economic difficulties restrain spending.
Citi economists now expect China's GDP to increase by 4.6% annually rather than 5% for the fourth quarter of 2022.
"Stringent zero-COVID measures and a weak property sector continue to cloud growth prospects," Citi analysts wrote in a note on Wednesday.
In light of anticipated weaker demand and a higher dollar, Goldman Sachs lowered its oil price projection for 2023 on Tuesday. However, it said that global supply disappointments strengthened its long-term bullish picture.
On the other side of the globe, the European Union recommended fresh sanctions against Russia for its invasion of Ukraine, including harsher trade restrictions and a cap on oil prices.
"We do not accept the sham referenda (in Russian-occupied areas of Ukraine) nor any kind of annexation…And we are determined to make the Kremlin pay the price for this further escalation," European Commission President Ursula von der Leyen told reporters.
"We are proposing a new package of biting sanctions."
Crude oil (CL) futures prices have pushed up a bit but will likely continue being weighed by weaker demand in light of a possible global recession. The bullish trend will only come back if supply is reduced.