There are still uncertainties regarding the UK's new fiscal policy.
The US economy is still showing strength after a drop in jobless claims.
The Fed will not pause anytime soon despite global market tensions.
Investors added to the E-mini Nasdaq-100 (NQ) futures selling cycle as the dollar's grip on the currency markets hardly relaxed, recession fears weighed heavily on stocks, and bonds continued to experience interest rate pain.
Bond selling resumed in the UK a day after the Bank of England had suddenly stepped in to try and calm the storm surrounding the British government's new expenditure plans.
"It's a pick-your-poison collection of bad news for investors," Sean Sun, portfolio manager at Thornburg Investment Management in Santa Fe, New Mexico, said in an email.
"From strong jobs data pushing the Fed to be more hawkish to the turmoil in the entire UK stock and bond markets to China intervening to prop up the yuan, with increasing geopolitical issues, investors are left few places to hang their hats."
Due to the BoE's unexpected intervention the day before, the UK 10-year gilt yield, which determines the country's borrowing costs, dropped by over 50 basis points (bps), but it now stands at 4.214%.
While central banks worldwide focus on how high they are willing to raise interest rates, investors are now observing "incoherence" in Britain with government spending as the Bank of England attempts to control inflation.
Charles Evans, a veteran Fed policymaker, did not mention the recent turmoil in the bond and foreign exchange markets. He did not indicate that the drama would cause the American central bank to veer away from its rate hike course.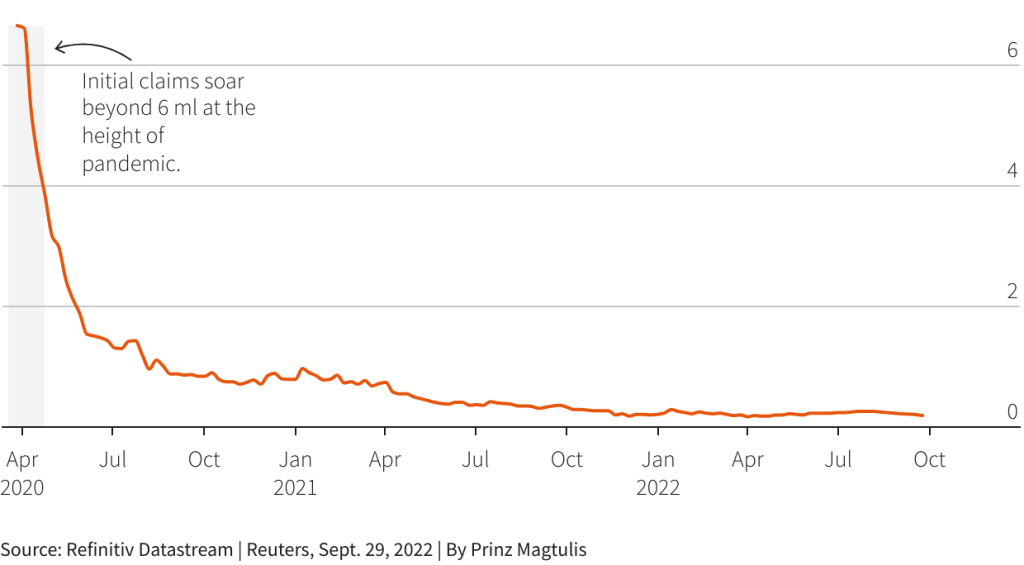 Last week saw a five-month low in the number of Americans submitting new claims for unemployment benefits. This indicates the labor market is still strong despite increasing challenges brought on by the Federal Reserve's sharp interest rate rises and sluggish demand.
"The Fed won't be slowing the pace of their rate hikes yet with 75 basis points in November and 50 basis points more in December a virtual certainty," said Christopher Rupkey, chief economist at FWDBONDS in New York.
"The Fed is going to go until something breaks, but so far, nothing is breaking beside the stock market and early signs that home prices are starting to fall."
The E-mini Nasdaq-100 futures prices will likely continue falling as investors run away from riskier assets to safe-haven ones.