Investors have become hesitant to "buy the dip" ahead of US inflation.
Investors expect US core inflation to confirm a peak in inflation.
NQ price is sitting on strong technical support.
Today's price analysis for E-mini Nasdaq 100 (NQ) futures is bearish as investors worry over possible recession ahead of US inflation data.
"(Investors are) waiting to hear what happens with CPI and earnings," said Brent Schutte, chief investment officer at Northwestern Mutual Wealth Management Company in Milwaukee, Wisconsin. "For several months, we've swung back and forth between inflation fears and recession fears almost daily."
"We have confused investors who have chosen to go on a buying strike," Schutte added. "I don't hear many people saying 'buy the dip.'"
Investors have become hesitant to buy risky assets as the Fed raises rates to tame runaway inflation. Investors expect the core inflation rate to confirm further that inflation has peaked. This news could convince the Fed to ease up on its rate hikes and support the economy. However, if the core CPI fails to confirm a peak in inflation, futures prices might collapse.
"It is a continued risk-off tone in markets and the anticipation that while maybe some of the pain is priced in, you still have inflation expected to accelerate and the Federal Reserve with a lot of room to go on rate hikes," said Ross Mayfield, investment strategy analyst at Baird.
The Fed has room for rate hikes because, despite the rising interest rates, the US economy is doing reasonably well. Friday's positive jobs report could allow the Fed to maintain its aggressive monetary policy.
E-mini Nasdaq 100 (NQ) futures technical analysis: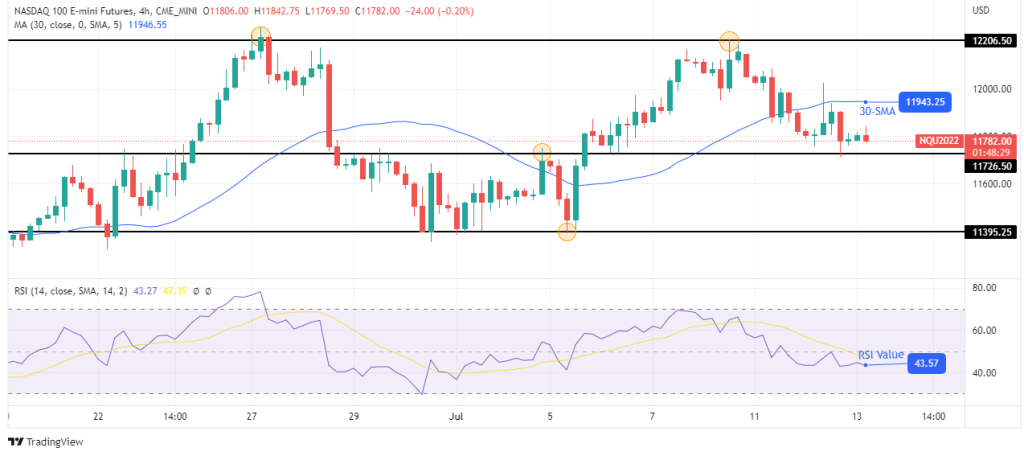 Looking at the 4-hour chart, we see the price below the 30-SMA showing that bears are back. The price has broken and retested the SMA and is now heading lower. The RSI is trading below 50, favoring bearish momentum. The price is facing a critical support level at 11726.50. This level acted as resistance on July 4.
The level might hold up as support, which could cause a bit of consolidation before going up or down. The price will likely break below this level and retest the July 5 support at 11395.25. The bias will remain bearish if the price keeps trading below the 30-SMA and the RSI trades below 50.