High US inflation rate is fueling recession worries that might hurt demand.
COVID-19 is coming back to Asia, which could lead to restrictions.
The soaring dollar is making oil expensive.
Today's crude oil (CL) futures price is bearish owing to the increase in demand worries in the global market. The first thing fueling demand worries is rising US inflation. Yesterday's inflation data rekindled recession fears in the hearts of investors. Markets are now anticipating a 100bps rate hike in next week's meeting. Such high rate hikes will only bring recession closer, and such an occurrence would curb oil demand.
Second on the list of things fueling demand worries is the COVOD-19 resurgence in Asia, especially China. New variants are coming up, and this can only mean more restrictions that try to control the spread of the virus. China, the second largest oil consumer, will see lower demand if lockdowns come back.
Finally, the US dollar's rally is making commodities, including oil, more expensive for overseas buyers, hurting demand. This rally might not end soon with the Fed on a rate hike rampage. The higher the dollar, the more expensive and less attractive oil becomes.
There are no significant changes to oil supply fundamentals, so supply concerns remain, but everyone is more concerned about demand now. We might not need more output if there were very few buyers.
Data from the U.S. Energy Information Administration also shows dropping demand, with product supply going down to 18.7 million barrels per day, the lowest since June 2021. Demand worries will have to go down before we can see oil in an uptrend.
Crude oil (CL) futures price: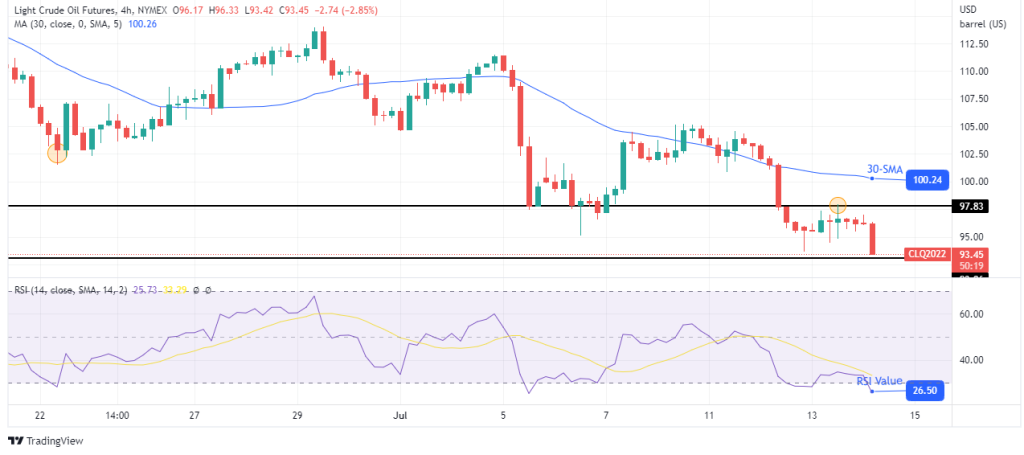 Looking at the 4-hour chart, we see the price made a big move down after moving sideways for some time. The price moved sideways until it retested the recently broken support at 97.83. Bearish momentum is favored by the RSI when trading in the oversold region.
The price is close to 93.06, which is a strong support level. This level stopped bears on April 11 and might stop them again. If there is support at this level, the price might retest 97.83 or consolidate before going further down. The downtrend will continue if the price stays below the 30-SMA and the RSI trades below 50.