ES Futures might fall further if earnings disappoint.
US inflation data might push the Fed to raise rates faster.
In the charts, bears have returned.
Today's outlook for E-mini S&P 500 (ES) futures is bearish as investors worry over earnings amid the economic slowdown. The global economy has been hit in recent months, and most companies have felt the effects. These effects are bound to be reflected in their earnings, and this is what is causing a bit of panic.
"Not only are people worried that earnings will come in weak because of an economic slowdown, but also because of the rise of the US dollar, which creates a headwind for earnings for multinationals," said Robert Pavlik, senior portfolio manager at Dakota Wealth Management.
The dollar continues its rally ahead of US inflation data and expectations of a more aggressive Federal Reserve policy. With a positive jobs report, the US economy might be able to survive further rate hikes to try and control inflation. The Fed will only pause when there is a clear indication that inflation has peaked.
"With little economic relief on the horizon for Europe, US inflation data is likely to mark a new high for the year and keep the Fed hiking aggressively. We think the risks remain skewed in favor of the greenback," said Jonas Goltermann, a senior markets economist at Capital Economics.
How much further can S&P 500 futures fall?
"We believe the headwinds to the economy and the market are substantial as inflation remains too high. … However, we acknowledge that a lot of bad news has already been priced in, with the Nasdaq down and the S&P 500 continuing to decline from all-time highs," said Chris Zaccarelli, chief investment officer at Independent Advisor Alliance in Charlotte, North Carolina.
E-mini S&P 500 (ES) futures technical outlook: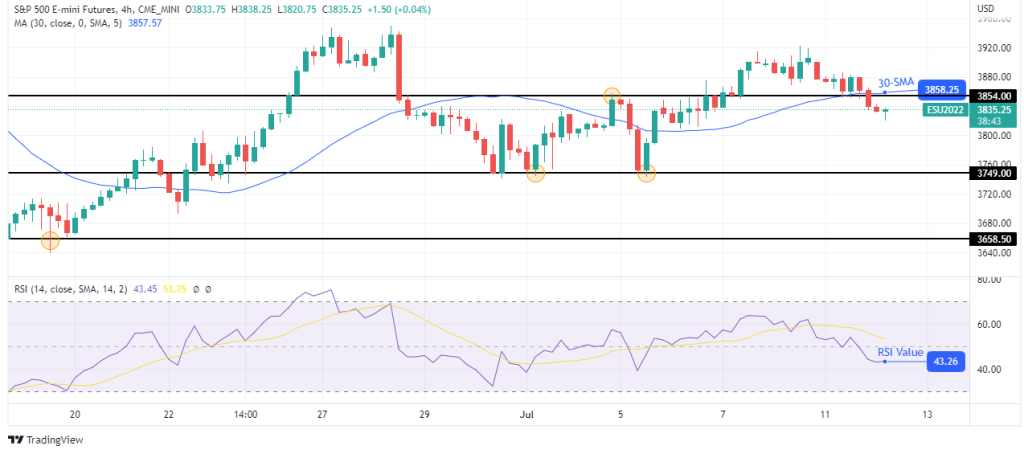 Looking at the 4-hour chart, we see a bearish trend. The price of ES has broken below the 30-SMA and 3854.00, the July 4 resistance. The RSI has also gone back below 50, showing bearish momentum has returned. At this point, the price might keep pushing lower with the next support at 3749.00. This level has acted as support on previous occasions.
The bearish trend will continue if the price keeps trading below the 30-SMA and the RSI stays below 50.