NQ maintaining a bearish outlook with multiple shorting opportunities.
A new Indicator Review.
A price target of $10,000 is still possible for NQ.
Outlook Bearish With Potential Shorts Available
The Price of NQ swung violently yesterday after the CPI report was released. Prices dropped about 5.3%, then reversed course and closed up 1.8% on the day. The resistance of the prior yearly low of $11,068.50 is currently being tested, which could be an area to consider taking short trades.

Our bias remains bearish as long as the price remains below $11,592.75, which is also the 78% Fib level. If prices break above that level, then a revision of the short bias would be considered.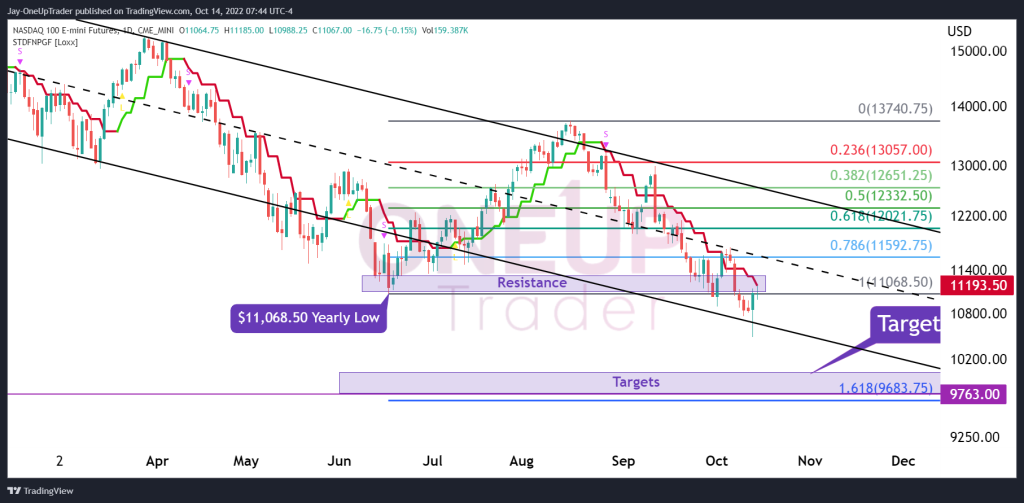 New STDFNPGF Indicator & What It Tells Us
This is an indicator created by a trader on the tradingview platform. It utilizes Heikin Ashi smoothing and a Gaussian filter to give entry signals. We are not too concerned with the buy and sell signals but instead want to focus on the color of the line and how long it usually stays the same before changing.

On the daily chart, it usually lasts about 30 days in red before it provides a buy signal. After the buy signal, the market usually consolidates for some time, and then we get another sell signal. Currently, the line has been red for 36 days, indicating that a period of consolidation is likely to occur shortly, and a buy signal could be on the horizon.

Since the downtrend is still strong, we are looking at any buy signals on this indicator to actually begin to initiate shorts because they will be retracements in the overall downtrend.