Crude Prices continue to fall with a multi-year trend line broken to the downside
The next support level to watch is $87.61
Inventory Report will be the main focus for Investors on Wednesday
Crude Oil has traded down since our last technical analysis overview of the commodity with prices now at $85.47 per barrel. Once prices rallied back into the previous resistance zone ($93.18 – $97.85), a sharp sell-off occurred, with the high of October 25, 2021, looking like a possible target. That would be a price of $85.47. The multi-year trend line that has been for a long time is now firmly broken to the downside, which adds to the Bearish sentiment.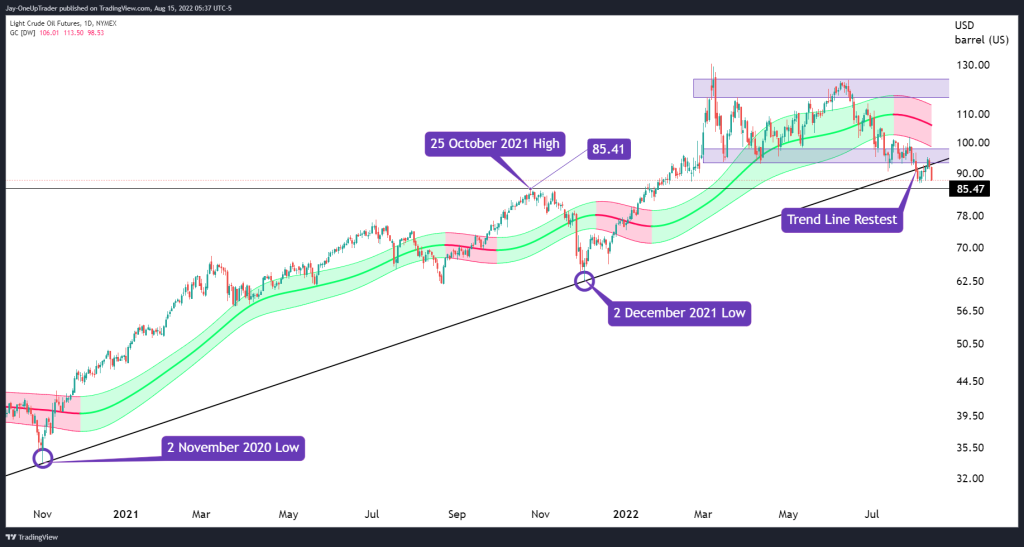 On the hourly chart, the minor support area at $87.61 is currently being tested. If that level breaks, crude oil has no support until the price reaches $85.47. Therefore we can expect a very sharp and aggressive move to the downside, which is why it's imperative for the Bulls to step in at current prices to restore some upward momentum.
Crude Oil has a bearish outlook at least in the short term. Traders should be mindful of the pending EIA report coming on Wednesday as well as the FOMC minutes that will have an effect on the dollar. If the commodity does not hold the key support of $87.60 we can expect a swift move to the downside for the next few days.