Last week saw an uptick in US gasoline consumption.
US oil refiners and pipeline operators forecast higher energy demand in the second half of 2022.
Russia resumes oil supply to Europe via the Druzhba pipeline.
Investors flocked to riskier assets in response to lower-than-expected US inflation statistics and promising news on US gasoline consumption.
According to the US Energy Information Administration, US crude oil stocks increased by 5.5 million barrels in the most recent week, exceeding the predicted increase of 73,000. However, US gasoline inventories dropped significantly, suggesting demand increased following weeks of subpar activity during what is supposed to be the busiest summer driving season.
"Everyone has been very much focused on potential demand destruction, so seeing implied demand showing an outsized rebound for last week has probably given some comfort to those concerned about that," said Matt Smith, lead oil analyst for the Americas at Kpler.
According to a Reuters analysis of company earnings calls, US oil refiners and pipeline operators anticipate robust energy consumption for the second half of 2022. This forecast is also supporting higher oil prices.
Since most global oil sales are conducted in dollars, falling dollar values after the negative CPI report are favorable for oil. If the US dollar continues its decline, we might see a further rise in crude oil prices.
Elsewhere, the southern leg of the Druzhba oil pipeline was reopened by Transneft, Russia's state-owned oil pipeline monopoly. According to Transneft, Ukraine had been halting the supply of Russian oil through pipelines to portions of central Europe since the beginning of this month because Western sanctions prevented it from receiving transit payments from Moscow.
Crude oil (CL) futures technical price analysis:
The highly volatile Crude Oil futures (CL) have seen a strong upward trend in price since the beginning of 2021. As seen on the log chart for CL, a trend line connects the low of November 2, 2020, to the low of December 2, 2022. This trend line has been tested the past few days and seems to be finding a lot of support.
Today is the first day since August 3 that we are closing above the trend line, which could signal a further rally on the cards. There is a real possibility that the price of CL could reach 116.59 per barrel. However, the price must first break above the psychological level of $100.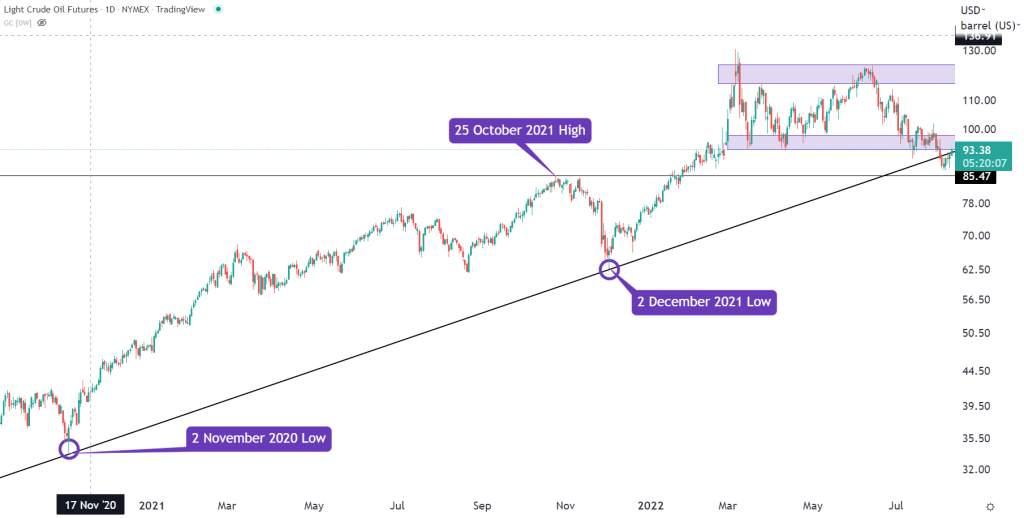 Narrowing down to the hourly chart, a trend line has been broken to the upside, further adding to the case that higher prices may be set up. The price break will be confirmed if prices push into the resistance zone between 101.38 and 102.44.
At the moment, CL has many bullish factors in its favor, but we will still need to see strong breaks above the levels indicated to confirm that the recent downtrend is reversing. If prices fail to do so, we can expect a test of the recent lows of 88.15.