Crude oil slips lower as the COVID spread in China deteriorates amidst lower risk sentiment.
Higher interest rates are weighing on CL futures.
Tight oil supplies provide some support to the falling prices.
The crude oil futures (CL) price fell nearly 5% on Monday, extending a decline that began last week amid worries about the extension of the COVID-19 lockdown in Shanghai and a possible rise in US prices. In addition, an interest rate hike will hurt oil demand and global growth.
COVID weighing on CL
An increase in public outrage was prompted by authorities in Shanghai installing fences around apartment buildings. In addition, many in Beijing are stocking up on groceries in anticipation of a lockdown after multiple cases have been identified.
Geoffrey Halley, an analyst at brokerage firm OANDA, said China seems to be the elephant in the room. Today's deteriorating sentiment results from increases in COVID restrictions in Shanghai and fears of the spread of Omicron in Beijing.
According to City Index analyst Fiona Cincotta, "Shanghai shows no signs of abandoning its strict anti-COVID policy; instead, it promises to tighten COVID restrictions, further denting oil demand."
The oil price also declined on the prospect of rising prices in the US. The US dollar is being stimulated by interest rate hikes. The dollar's strength makes dollar-denominated commodities more expensive for holders of other currencies and generally indicates investors' increased risk aversion.
Last week, both oil benchmarks fell nearly 5% due to demand concerns, and Brent crude dropped dramatically after reaching a 2008 high of $139 last month.
Tight supplies limiting the downside
As a result of tight supplies, oil received support. Russia's invasion of Ukraine has already reduced supplies due to Western sanctions and buyers refraining from buying Russian oil. Still, a possible EU ban on Russian oil could further depress the market.
According to The Times, European Commission Executive Vice-President Valdis Dombrovskis told the newspaper that the bloc was preparing "smart sanctions" against Russian oil imports.
In Libya, there are power outages and the resultant shortage in oily supply provides mild support to the crude oil futures. In addition, over 550,000 barrels a day are being lost to unrest in the OPEC member, and the Zawiya refinery is rife with armed clashes.
Crude oil futures (CL) daily open interest
The CL prices dropped on Friday while the daily open interest rose. It shows the beginning of a new downtrend.
Crude oil futures (CL) technical analysis: The demand zone holds the key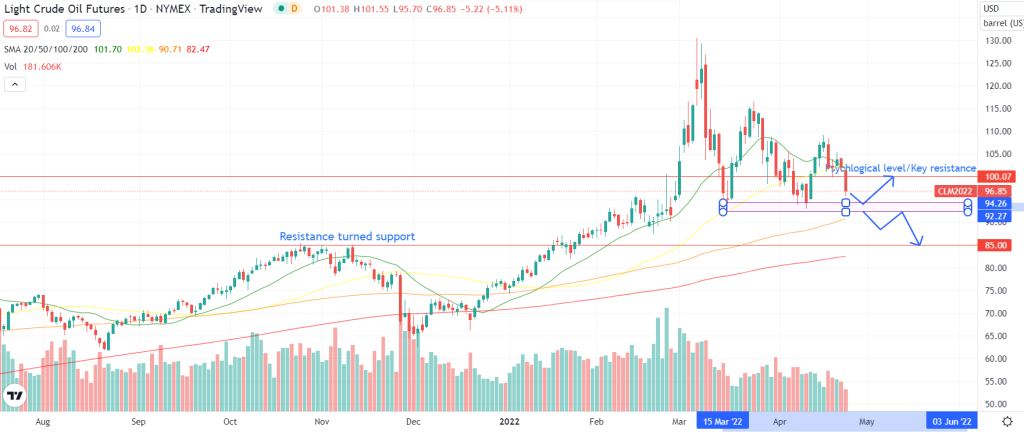 The crude oil futures price is sliding lower towards the demand zone around $92.27-94.26. The zone may lend support to the commodity. The CL price can jump back to $100.00 (psychological resistance) if the buyers appear in the demand zone. Alternatively, if the bearish momentum is strong enough, the price may break the zone and move further down towards the $85 area (resistance turned support) which is a key level to watch.