Prices rally to trade within the consolidation zone
Price potentially targeting the 50 Moving Average on daily time frame.
Daily Trend
The daily chart shows a steady downward trend since June with prices bouncing predictably within a channel as shown in our analysis below. The market could be targetting the 50 moving average where we will most likely see a good deal of sell pressure but whether the price gets there in the first place is the dilemma for the bears right now.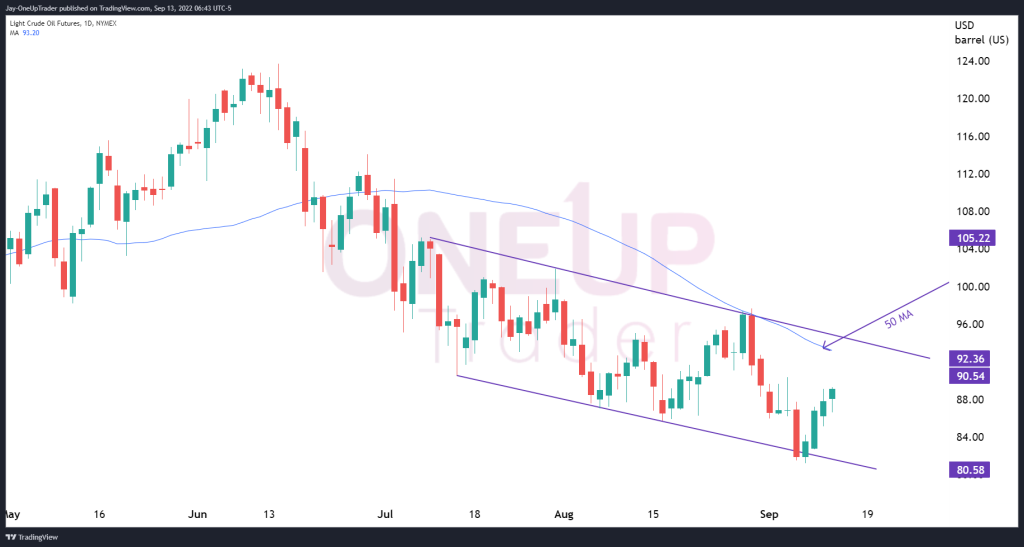 The Consolidation Zone
As we reported in our analysis from last week regarding CL, we recommended that for our short trades to work out, we needed to see the price remain below $83.04. After the article was published, there was no real shorting opportunity as prices rallied swiftly back into the consolidation zone.
Bull Case
Traders who see a potential upside to CL would be looking at the most immediate major target of $95 per barrel. A more realistic target would be $91, which is halfway within the consolidation channel.
Bear Case
Traders who see a potential downside in CL would be looking at $87 as their first target which is the lower side of the zone and then $84, which is the multi-year trend line we explained in this article.
Summary
It's a bit of a tricky situation at the moment in CL as there is not a great deal of probabilities in either direction. It will be interesting to see what happens in the following days and see if we have a potential set up later in the week.