The consolidation zone is broken to the downside
Four consecutive red candles forms on the monthly chart
Bears targetting $78.49
Monthly Candles
September candle has opened red, forming the fourth monthly red candle in a row so far. We can connect a trend line from the November 2nd low to the December 1st low, which CL is currently testing. There could be some buying power coming in at this level; it will be interesting to see what the rest of the month brings as we approach the close of this monthly candle.
Consolidation Zone Break
Yesterday's session saw a drop of nearly 6% in Crude as the consolidation zone was broken to the downside. The slide has continued with no sign of stopping, the Bears could potentially push the price to the Pivot level at $78.48.
Trade Opportunities
We see no bullish sign yet while bears are firmly in control. We see targets of $78.48 to have a higher probability of being hit than the upper consolidation zone at $87.00, so our outlook is bearish while prices remain below $83.08.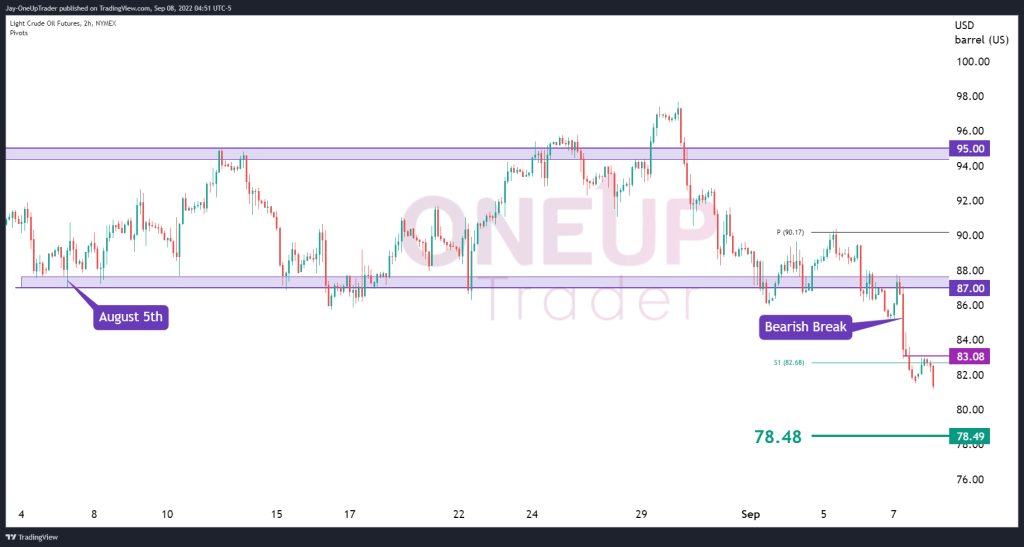 Summary
The trend is bearish as we await the EIA petroleum report to be released at 10:00 AM CT today. Any short-term retracements may be opportunities to sell into as long we see the price stay below $83.04. There are no bullish signals that we see at the time of writing. Caution must be exercised when trading CL due to the increased volatility following the release of the inventory report.