As traders eye this week's ECB meeting and US CPI, the Euro is trading quietly above 1.0700.
The ECB's hawkish stance and eased US price pressures could push the pair above 1.0800.
Technically, the Euro bulls are struggling to sustain above 1.0700.
This week is expected to be a busy one for Euro futures (6E), which is currently trading just above the 1.0725 level. Traders will be cautious about President Christine Lagarde's tone on the prospect of further tightening. The ECB will assess the economic outlook for 2023 at the June meeting, which will help them in planning the rate hikes. On Friday, US consumer price inflation data will be released. It is key to watch as the date will influence the Fed's policy expectations.
The first three days of this week will be relatively quiet in terms of central bank events and economic data, meaning Euro will likely be influenced more by risk sentiment and geopolitical events. Thus, it is likely that the instrument may consolidate between the 1.0600 low and 1.0800 high for the time being.
According to some strategists, the Euro futures (6E) may likely break above 1.0800 this/next week and touch the highest level since mid-April. For the latter, the recent recovery from last month's lows of 1.0348 is largely due to the growing momentum related to the description of the US inflation spike and the Fed's aggressiveness as a result.
Amidst renewed dollar sellers' pressure, the Euro expects a resumption of growth following Friday's decline.
The yields on both sides of the Atlantic are rising, with German bond yields flirting with 1.30 percent for the first time since April 2014 and US bond yields falling towards the important 3.00 percent mark.
Key events for Euro futures (6E)
In the New York session, only the short-term notes auction is scheduled. The euro list is empty on Monday.
Euro futures (6E) technical analysis: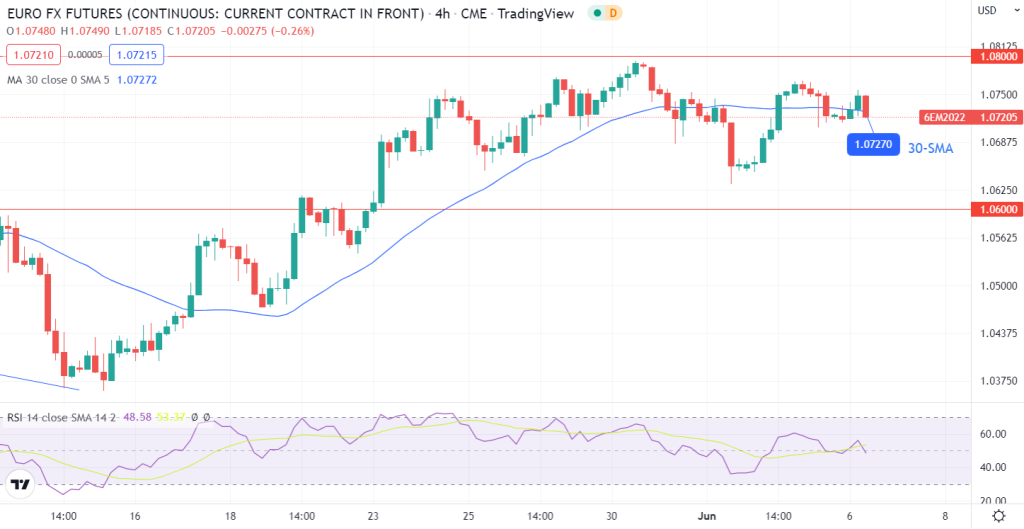 The Euro price is wobbling above the 1.0700 area. The price remains around the 30-period SMA on the 4-hour chart. If the bears manage to stay below the 30-SMA, we can expect the resumption of a broad downtrend.
The RSI value has just slipped below the 50.0 level. It shows that the price has been under pressure. Therefore, the important level for the Euro is 1.0700 support. We may see further downside towards the 1.0600 level if the support is broken.