Mixed signals on Monday left the index in a range.
Musk's threat to walk out of the Twitter deal spooks investors.
Technically, the price of ES is consolidating between 4072 to 4200.
The E-mini S&P 500 (ES) futures closed Monday slightly lower after a choppy session. The index had a choppy session because gains in Amazon and other mega-cap growth shares pushed it higher, while at the same time, worries about inflation and interest rates pushed the index lower. Amazon shares went up by 2%, the most significant positive for the S&P 500 after the company split its shares 20 for 1.
Apple Inc's shares went up by 0.5%. At its annual software developer conference, the company said that it would go further in integrating its software into the core driving systems of cars. Investors are still concerned about inflation despite all this good news as US Treasury yields rose on Monday.
"With inflation running high and commodity prices still rising and putting in new all-time highs, maybe that inflation peak is still in that ethereal future," said Paul Nolte, portfolio manager at Kingsview Investment Management in Chicago.
Twitter Inc's shares were down 1.5% after Elon Musk threatened to walk away from his buy-out offer if the social media company failed to give data on spam and fake accounts. The warning from his lawyers to Twitter's chief legal officer marked an escalation that saw Twitter's shares drop.
On Tuesday, investors will be looking out for April's trade balance for the US to see how the economy is faring amid rising interest rates. They will also pay attention to the US's EIA short-term energy output report.
E-mini S&P 500 (ES) technical forecast: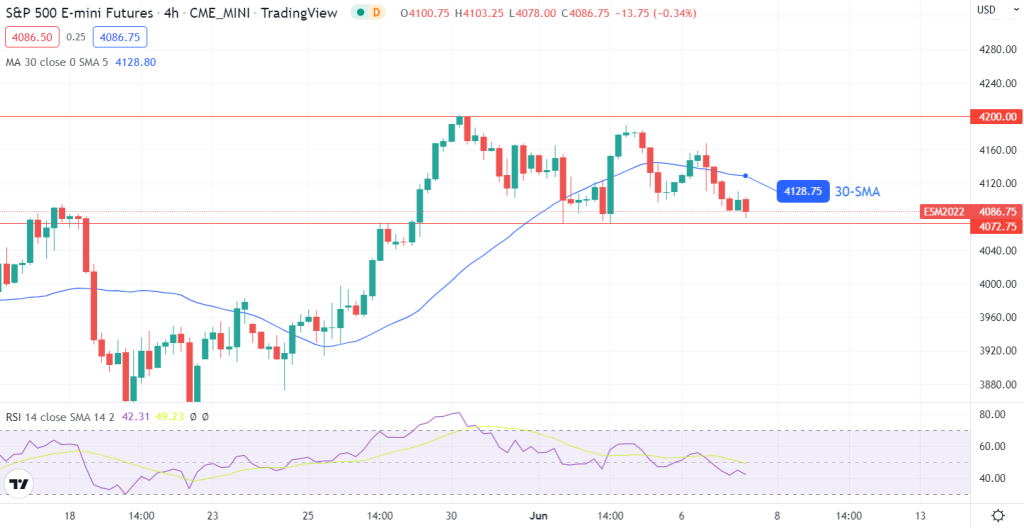 Looking at the 4-hour chart, we see the price of ES trading between 4072.75 and 4200.00. Prior to the consolidation, the price was trading above the 30-SMA, with the RSI above the 50 level. This current sideways move suggests there is indecision in the market.
This indecision could be due to bulls who are unsure if they can push the price any higher. At the same time, bears may be coming in to try and push the price lower. If bullish momentum continues, the price could reach 4200.00 and beyond.