NQ prices dropped 8% this week.
Bart pattern spotted on 1-Hourly time frame with a high volume spike
Bearish market conditions persist.
NQ Suffers an 8% Price Drop
We saw the Nasdaq suffer an 8% drop this week, going from $11,600 to $10,080. The sell-off began on Monday but was spurred on by the Fed's 75 basis point rate hike yesterday. There is also expectation amongst respectable economists that we will continue to see rate hikes through the whole of next year. The market as a whole is not reacting positively to this, with all major indices dropping alongside Gold.
Recap From Last Week
Referring back to the analysis we did on NQ last Thursday, we stated our dissatisfaction with the rally that had occurred. We saw it as lackluster, and the extended consolidation periods on the hourly chart gave the suspicion that there was still plenty of selling pressure. We also saw the potential for the tech-heavy index to fall back down to test the 100% Fib line at $11,068.50.
That target has been met with NQ currently trading at $11,078.5, and so the question arises, 'What now?'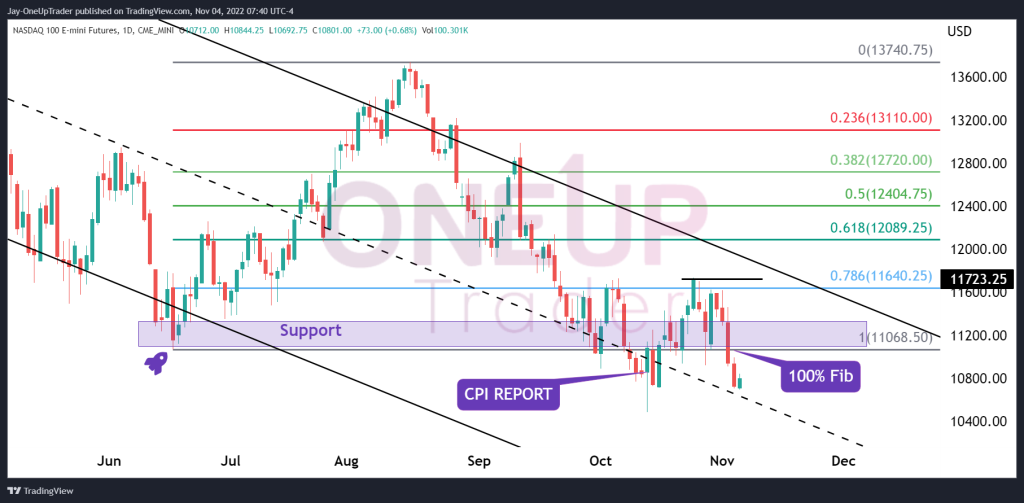 Looking Deeper
The 1-Hourly chart paints a very interesting picture. A bart pattern has formed, resulting in a sharp sell-off and a strong volume spike. There is a bearish candlestick formation where Bears could place their stop losses at the high. Traders have the option to wait and see if a slight pullback occurs. The pullback may find some resistance at the minor zone at $11063.25. We never like to chase the market and feel like it's not a long-term strategy, but traders must accept that NQ could continue to slip over the next week with no pullback.
There is a small support line at $10,706, which is holding at the time of writing.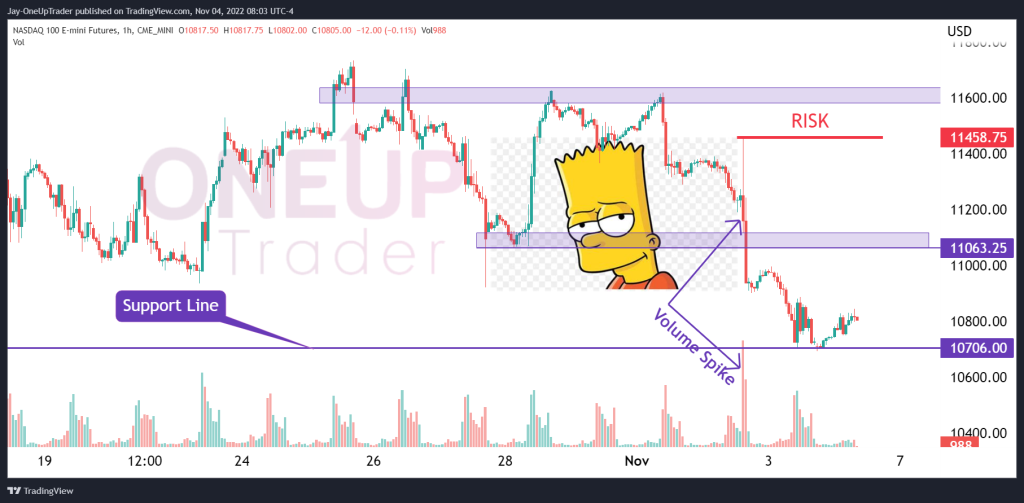 Summary
Markets have sold off significantly this week; with the Feds expected course next year, it's hard to find a narrative that pushes markets upwards. However, anything can happen, and we mustn't be certain of one thing happening over the other.
On the other hand, NQ has fallen off a cliff this week, too, and it could be due time for a small relief rally, but ultimately the markets are maintaining the same narrative as they have for the entire year – Bearish.