The Bank of Japan increased the permissible band for long-term rates.
The BOJ maintained its Yield Curve Control (YCC) targets.
US equities have been dragged lower due to recession worries.
Asian equities plummeted following an unexpected adjustment by the Japanese central bank to its bond yield limits on Tuesday that will allow long-term interest rates to increase even more.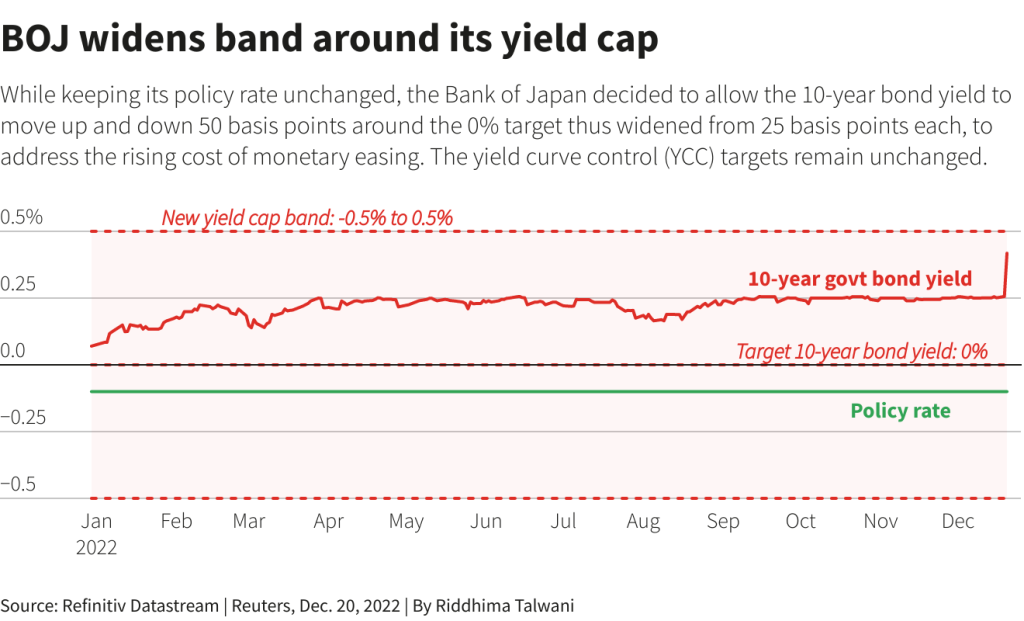 The Bank of Japan increased the permissible band for long-term rates from 25 basis points to 50 basis points on either side of that while maintaining broad policy settings.
The decision caused an immediate increase in the Yen's value, and the dollar fell by 2.71% to a four-month low of 133.16.
The BOJ's decision indicated that the factors that drove the Yen to three-decade lows this year might be changing. It maintained its YCC targets, which were set at -0.1% for short-term interest rates and about zero for the yield on 10-year bonds, as was largely anticipated.
Investors continued to have serious concerns about China's reopening to the rest of the world after almost three years of COVID lockdowns.
For the fourth consecutive session in the US, Wall Street ended lower, with Nasdaq leading falls as investors avoided riskier bets due to concerns that the Federal Reserve's tightening campaign might cause the US economy to enter a recession.
The three main US market indices have been under pressure since Fed Chair Jerome Powell adopted a hawkish stance while the Fed boosted interest rates on Wednesday. Even though the data indicated the economy faltered, Powell pledged more rate rises.
The S&P 500, Nasdaq, and Dow Jones industrials have all experienced significant decreases for December, and they are on pace to post their largest annual losses since the 2008 financial crisis.
According to Brian Overby, senior markets strategist at Ally, investors fled from stocks in favor of safer investments when US Treasury yields increased because they were concerned about the possibility of a recession in 2023.
According to Melissa Brown, Global Head of Applied Research at Qontigo in New York, the lack of significant earnings announcements or economic data probably heightened investors' emphasis on economic worries and interest rates.
According to Brown, there is a thin line separating a possible recession and a possible soft landing. "Is the Fed doing the right thing?" Brown added that movements could be exaggerated because many investors take vacations around the end-of-year holidays.