The Fed might tip the US into a recession, boosting bullion as a haven.
Rising inflation and higher rates in the US continue to weigh on gold.
The US economy is holding up well despite rising interest rates.
Gold (GC) futures bulls expected the worst after the Federal Reserve raised interest rates by 75 basis points for the third time. However, despite the central bank's threats of further significant rate hikes before the year is up, it didn't turn out too bad for gold buyers.
"The hawkish Fed projections are a rather grim outlook for the economy, and that could eventually trigger a resumption of a safe-haven role for gold," said Ed Moya, an analyst at online trading platform OANDA. "The Fed acknowledged that we're at the very lowest levels of what is restrictive and that they are prepared to soften this labor market. This inflation fight is going to get ugly for the economy, but right now, it seems the Fed will be done hiking in February."
"Gold will remain vulnerable to selling pressure if inflation does not continue to ease, but it could start to stabilize now."
According to Chairman Jerome Powell, there is still a long way to go before the Fed considers pausing or slowing rate increases in the United States. Another 125 basis points will likely be added before the year ends.
Powell made his remarks after the FOMC declared its third consecutive 75-basis point rate increase since June. Key lending rates reached 3.25%, up from just 0.25% in February.
Regarding the US economy, the Fed predicted GDP would expand by 1.2% in 2023 and 0.2% for the rest of this year. In comparison, the United States saw a healthy recovery from the business lockdowns brought on by the epidemic a year ago, growing its GDP by 5.7% in 2021.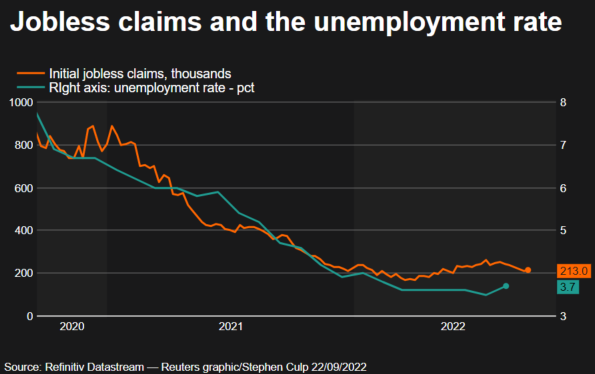 Last week saw a slight increase in the number of Americans submitting new applications for unemployment benefits. The unemployment rate is also still relatively low. This shows that the labor market is still tight despite the Federal Reserve's aggressive interest rate hikes designed to reduce demand.
According to economists, the largest rate increase by the Fed in four decades might ultimately cause the stock market and the country's booming housing market to crash, sending the country into a devastating recession. As Moya of OANDA suggests, gold may act as a haven at this point.