The EU proposes price caps on Russia's oil and gas exports.
Britain's PM Liz Truss is expected to repeal the nation's fracking ban.
China's monthly crude oil imports dropped, fueling demand concerns.
Crude Oil (CL) futures prices increased by as much as $1 per barrel on Thursday after falling in the previous session. An energy standoff between Europe and Russia has focused the market's attention on how limited fuel supply may become.
Prices rose due to Russian President Vladimir Putin's threat to stop the nation's oil and gas exports if European buyers imposed price caps.
President Vladimir Putin threatened to shut off all energy supplies if the European Union placed a price restriction on Russian gas on Wednesday. This has increased the possibility of rationing in some of the richest nations in the world this winter.
Europe has accused Russia of weaponizing energy resources in revenge for Western sanctions placed on Moscow for its invasion of Ukraine. Russia attributes the gas supply issues to the sanctions.
According to analysts at Haitong Futures, the energy conflict between Russia and the West is one of the external factors influencing the oil price trend. They pointed out that a settlement or the reinstatement of an agreement between the West and Iran on Tehran's nuclear program may also have a substantial effect. If a deal is reached, sanctions against Iranian oil exports will be lifted.
Additionally, in response to skyrocketing energy costs, Britain's new Prime Minister Liz Truss will repeal the nation's ban on fracking on Thursday and work to maximize the country's North Sea reserves. The British government is expected to announce dozens of additional North Sea oil and gas exploration licenses to increase local output.
Concerns about demand were exacerbated by China's dismal economic data and strict zero-COVID policy.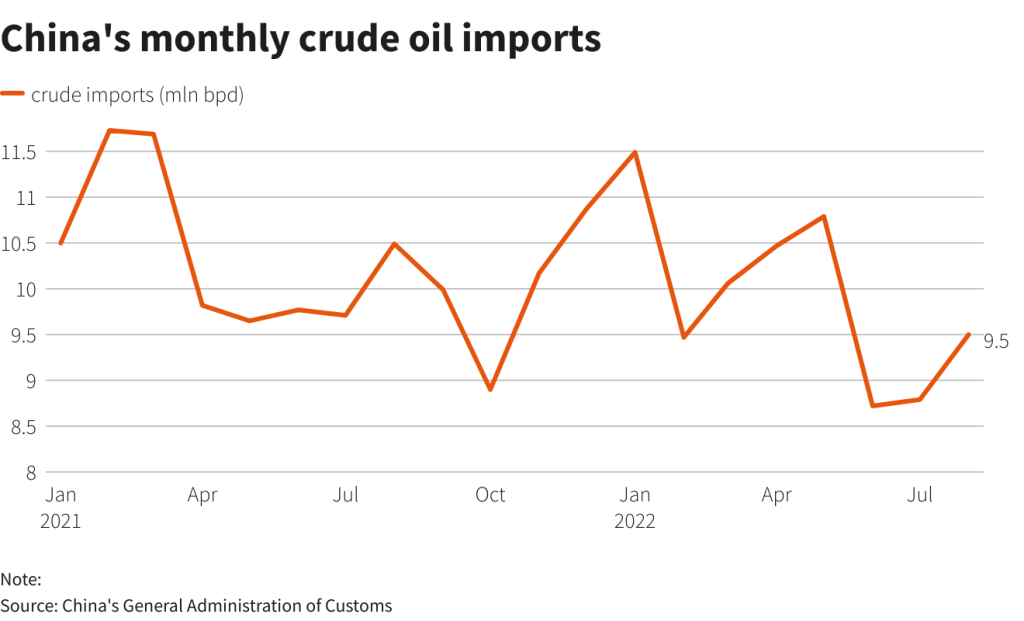 According to figures from the General Administration of Customs, the top crude importer in the world imported 40.35 million tonnes of crude oil last month. This is nearly 9.5 million barrels per day (bpd). However, Crude oil (CL) futures prices will only drop when demand outweighs supply concerns.
In the meantime, several central banks across the globe are anticipated to start a new wave of interest rate increases to combat inflation. The European Central Bank is expected to significantly increase interest rates later today, followed by the FED on September 21.