Recession fear and strong US dollar triggered sell-off in the crude oil futures.
China announced a new round of COVID-19 tests in Shanghai, which could lead to demand dampening restrictions.
There is a risk of tighter demand if the global economy tips into a recession.
Today's crude oil (CL) futures forecast is bearish as demand worries return to the markets, fueled by the looming global recession. The recession fear and strong US dollar weighed down the crude oil prices yesterday.
Though the oil price rose slightly, the rally did not last long. Soon after, prices began collapsing as demand worries outweighed supply concerns. The possibility of lockdowns in Shanghai reignited demand worries after China Tuesday announced a new round of mass COVID-19 tests. This announcement caused a lot of panic in the market.
The Reserve Bank of Australia was the latest central bank to raise rates by 50bps to fight raging inflation. The world's central banks are on the verge of tipping their economies into recession, causing a lot of panics and liquidating risky assets.
"If a recession does hit, and takes a significant bite out of energy demand, more wild swings to the downside could be in store. The commodity market can be quite unforgiving when you go into recession and supplies outstrip demand," said Andy Lipow, president of consultancy Lipow Oil Associates.
Prices fell further after the Norwegian government intervened to end the strike that threatened the oil supply, and oil is pulling back today.
Crude oil (CL) futures technical forecast: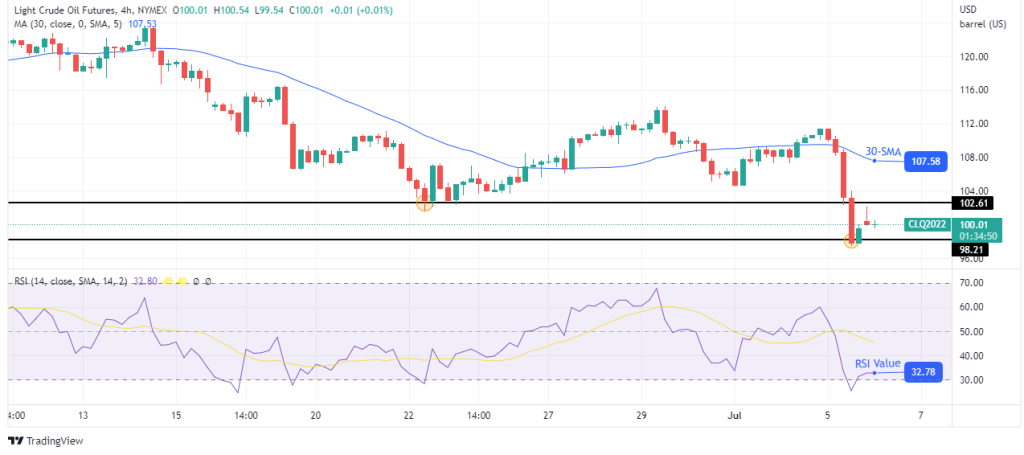 Looking at the 4-hour chart, we see the price collapsed quite rapidly. The Bears rejected an initial attempt at trading above the 30-SMA, and the price went right through 102.61, a level that stopped it back on June 22. Bears hold the reins as the RSI gets to the oversold region before pushing higher.
The price of CL is trading far below the 30-SMA, showing how steep the move was. It experienced support at 98.21, which also acted as support back on May 10. The price may retest the June 22 level as resistance before falling further. The bearish pressure could resume if the price trades below the 100.00 level.