There is renewed optimism about China easing COVID-19 restrictions.
Markets are hoping the recent signs of a slowing US economy will allow the Fed to ease monetary policy.
Investors are closely watching the US midterm elections with republican senators in the lead.
US Equity Index futures prices, including the E-mini Nasdaq-100 (NQ) futures, rose as investors weighed the results of Tuesday's mid-term elections. The election outcome will determine whether the Republicans are powerful enough to take control of Congress and probably highlight the challenging prospects facing Democrats.
"On a day-to-day basis, the market focuses on the headlines and what's coming up immediately ahead of us, and that's the elections," said Tim Ghriskey, chief investment strategist at Inverness Counsel in New York.
"What might or might not happen with the election is not that big of an influence on the market. The big influences are the Fed and what's happening in Ukraine and Russia," he said.
According to strategists at Saxo Markets, a divided Congress would make the prospects for fiscal support measures poorer, which would cause investors to anticipate that the Fed would start hiking interest rates less aggressively sooner rather than later. They stated that such an outcome would likely result in downward pressure on the dollar and could lead to a rise in stock prices.
Historically, stocks have tended to perform better under a split government when a Democrat is in the White House. Investors attribute some of this performance to the political gridlock that hinders either side from enacting significant policy changes.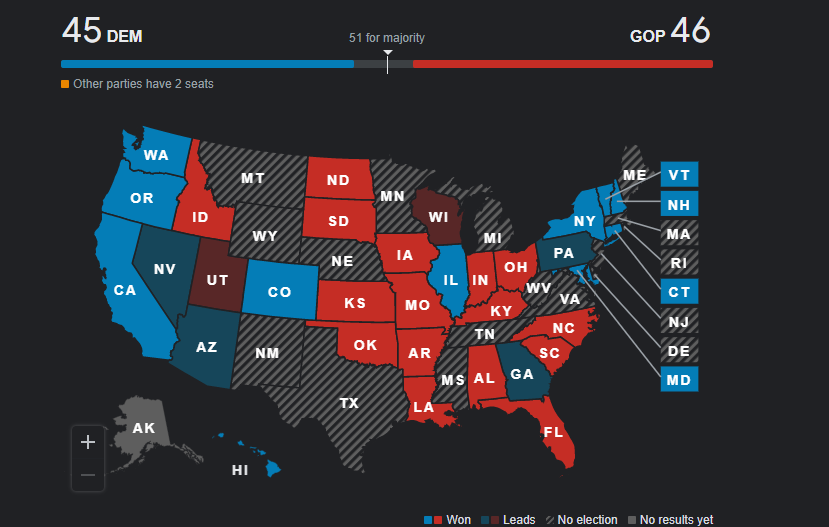 Initial results indicated that several Republican senators had comfortably won reelection, although it is unlikely that the results will be revealed very soon.

Stock futures prices rose, and the US Dollar dropped as investors welcomed the idea that China may ease COVID restrictions. There is also hope that the US economy is slowing after Friday's jobs report. This would allow the Federal Reserve to ease its aggressive hiking of rates.
Traders continued to hold onto their expectations that China would relax some of its COVID restrictions after the government announced Monday that it would make it simpler for people to enter and exit the city.
Investors will also be thinking about US inflation data due out on Thursday, with experts projecting declines in the monthly and yearly core numbers to 0.5% and 6.5%, respectively. An easing in inflation could see the return of a bull market.