E-mini S&P 500 futures saw a 2% gain on Wednesday.
The gain is attributed to the rise in share prices of tech giants like Apple and Microsoft.
Retail companies continue to struggle amid inflation concerns.
There is a 2% rise in the E-min S&P 500 futures (ES), and over 90% of the companies in the benchmark index are up. As a result, the index soared by more than 80 points. ES was trading around 4088 at the time of writing.
After an unsuccessful week on Wall Street, traders bought back as stocks rebounded from a weak week on Tuesday.
The strongest bulls were Apple and Microsoft, which led the rally. It is a sign of an improving economy that small-cap stocks have risen more than other markets. The yield on government bonds has risen as well.
Investors viewed several major retailers' earnings reports in response to the encouraging retail sales report. A sustained recovery in equity prices comes as the broader market recovers from a six-week recession.
Technology gains accounted for most of the gains in the E-mini S&P 500. Apple and Microsoft gained 2% and 2.5%, respectively. Many large technology companies have high stock values, enabling them to drive the broader market up or down.
The market has also been boosted by medical companies. For example, Abbott Laboratories gained 4.4 percent in value after entering into an agreement with government regulators to boost the production of baby food substitutes despite shortages.
Rising bond yields have given banks a foothold, and they are confident in charging higher interest rates on loans. Government bond yields rose to 2.99% at the end of Monday from 2.88%. The JPMorgan Chase stock rose 3.3%.
The stock price of Paramount rose 15.3% after Warren Buffett's Berkshire Hathaway announced it had purchased a stake in the media company.
The US Department of Commerce reported that retail sales rose 0.9% in April. Increases in auto, electronics, and restaurant sales drove this strong growth. A positive report will ease Wall Street's fears about continued high inflation, which dampens consumption and the possibility of an economic downturn.
Wal-Mart, the largest retailer in the United States, saw its sales drop 11.4% to their lowest level since 1987. The retailer announced its disappointment and lowered its earnings forecast for the year due to inflationary pressures.
There were also losses for other retailers. The shares of Target and Bath & Body Works fell 1.4% and 2.9%, respectively. Kroger, which operates supermarkets, fell 3.7%.
E-mini S&P 500 (ES) technical analysis: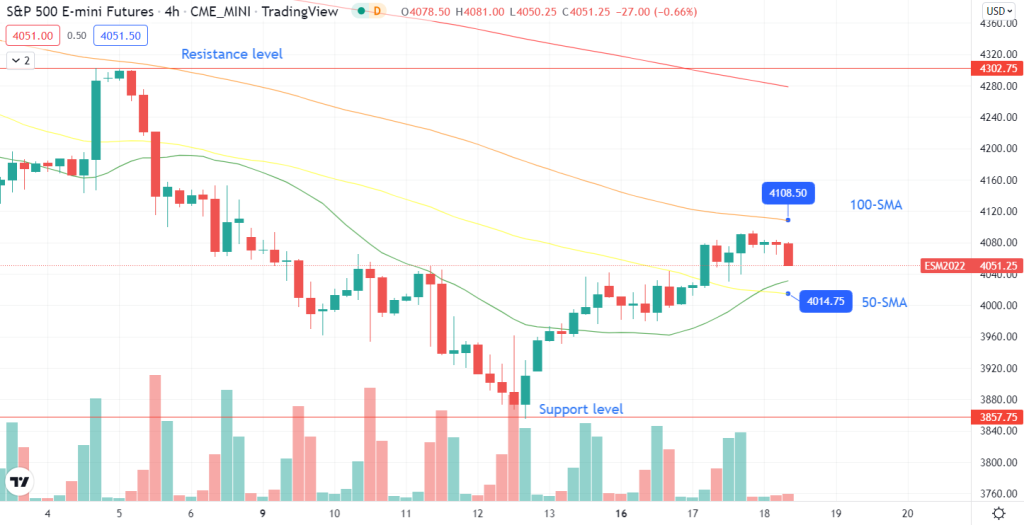 The S&P 500 futures index is now consolidating gains within the 50-period and 100-period SMAs on the 4-hour chart. On the upside, the key resistance for the index lies at 4302.75, while on the downside, the support emerges at 3857.75.