Fed Minutes leave markets unchanged
ES trading near the long-term trend line
Pullback entries giving positive results on lower time frames
Yesterday, August 17, the Fed released its meeting minutes which has left most indices unchanged for the most part. ES futures are approaching the upper trend line, which has held since the start of the year.
Prices are currently trading around the resistance level, which formed back in October 2021 at $4,260. That, coupled with our trend line test, could mean some selling pressure may enter the market, stalling the current bullish momentum. The upward momentum, however, remains strong, and bulls are firmly in control.
If a convincing break above the October 1 resistance and trend line occurs, the next price target will be $4,549.50. Looking at the Dynamic Money Flow Index, the 50 and 100 moving averages calculated on the indicator have now turned green, meaning that more capital is flowing into the index in the past 50 days compared to the past 100 days.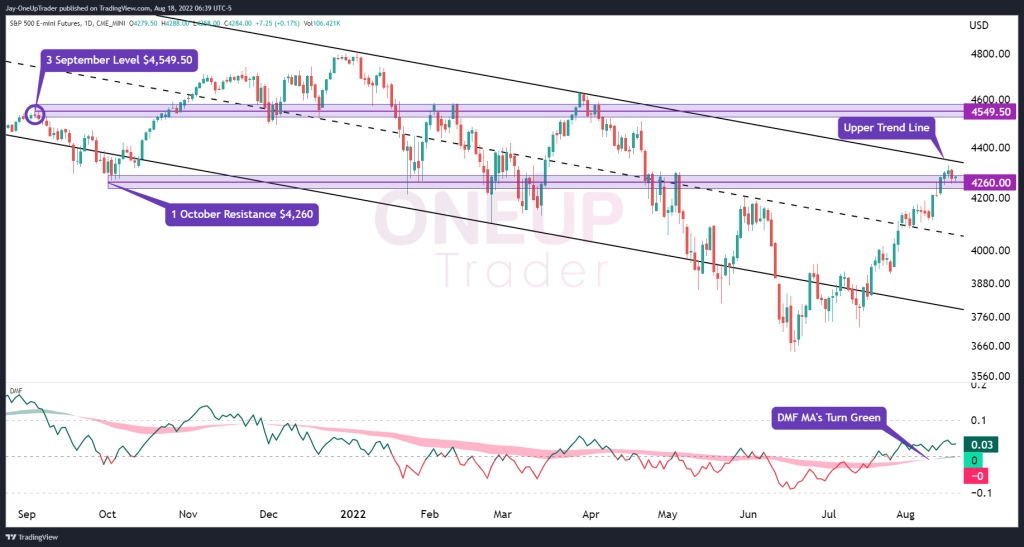 Short Term Technical Outlook
ES futures have been trending on the two-hour chart with a few great entry opportunities using a simple moving average pull-back system. There is a guide on how to trade this system on our Youtube channel here.
Even though the trend has been going on for nearly a month, there is no sign of a reversal, and so as the saying goes – do not fight the trend!
A pullback strategy is a great way to initiate positions in a trending market with powerful momentum, as we see in the chart below. Any pullbacks inside the moving averages to take a long position is ideal in these conditions as long as wide enough stop losses are used to maximize winning potential in our trades.
As markets digest the Fed minutes, momentum remains in the bull's favor. Taking short trades in these conditions would mean fighting the trend. Our price targets, therefore, remain above current prices and will stay that way until sentiment or our chart give a reason to do otherwise.