The US dollar is gaining ground on hawkish comments from Fed officials.
US treasury yields are on the rise, making gold less attractive.
Some policymakers are open to a 75bps rate hike from the Fed.
Gold prices fell to a three-week low on Friday. The yellow metal is on track to experience its first negative week in the last five weeks as its appeal has been diminished by a stronger dollar and the likelihood of further rate increases by the US Federal Reserve.
Even though Fed policymakers said in the minutes of their July meeting, which were made public on Wednesday, that they would take a less aggressive position if inflation starts to decline, markets have been turbulent over worries about an impending recession.
"The markets are still trying to figure out the Fed minutes," causing volatility, said Charles Self, chief investment officer at Tandem Wealth Advisors in Appleton, Wisconsin.
"The minutes were uniformly hawkish in our view," Self added. "It's clear among all the voting members that curing inflation is the No. 1 choice, and they will do whatever is necessary regarding raising rates to get there. We think they're using the labor market as cover.
As investors continued to analyze the minutes of the Fed meeting, US 10YR Treasury yields declined marginally but hovered close to a one-month high earlier in the week.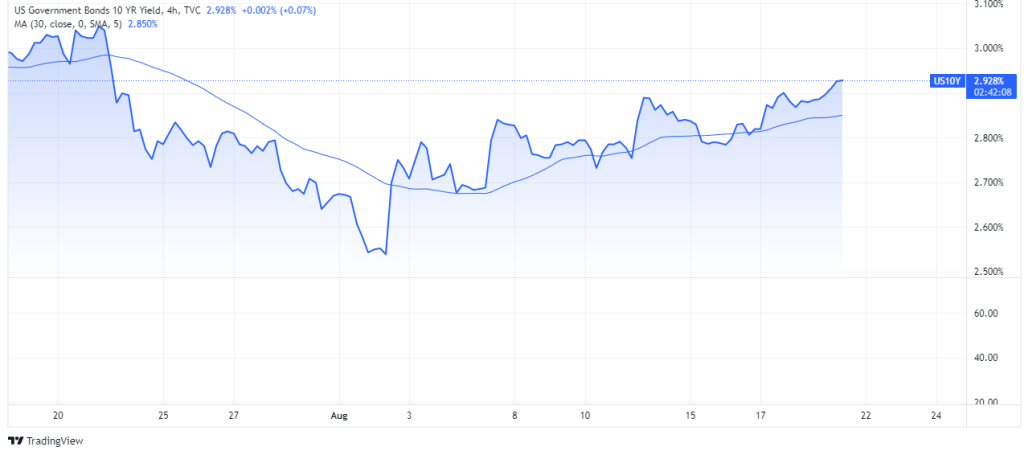 Theoretically, the US 10-year yields are inversely related to the gold prices, so the sustained upward trend of the US 10-year yields increases the opportunity cost of holding gold. This is not surprising as a high-interest rate environment makes gold less appealing since holding it yields no interest.
On Thursday, several Fed officials, including James Bullard of the St. Louis Fed and Mary Daly of the San Francisco Fed, reaffirmed the necessity for the American central bank to maintain raising interest rates to control inflation.
After Fed policymakers reiterated the need for additional rate hikes in their remarks, the US dollar index soared to a one-month high, increasing the price of gold for buyers using other currencies. This has seen gold prices fall this week.
As the US dollar becomes a more lucrative safe haven asset due to recent rate hikes, the investors are not entirely attracted to the non-yielding precious metal.
Gold prices may continue to fall as long as the US dollar continues to rise. At the moment, the yellow metal seems to have more downside potential as the Fed keeps raising interest rates. However, the end might be coming soon as inflation in the US has started showing signs of peaking. The Fed will only pause if inflation peaks.