The Bull target for ES at 4,105 has been hit.
Market in anticipation of the Feds meeting on December 12.
A bull flag pattern has been spotted on the hourly chart.
Bull Target Hit From Last Week's Analysis
Last week we mentioned the possibility of ES rallying up to the top of the downward trend channel at $4,105. During yesterday's session, the price peaked at $4,110 after Jerome Powell hinted at a slower rise in interest rates. Take a look at the analysis from last week to get a better picture of where we are regarding ES here.
Possibility Of Resistance?
Since the ES price is trading at the top of a year-long downtrend channel, we suspect there will be a fair amount of resistance around the $4,100 level. There is the potential for ES to drop down to the $3,951 liquidity level if the resistance proves too strong. This, however, is very dependent on the Fed's meeting on December 12.
Bull Flag Formation On The Hourly
A potential bull flag is forming on the hourly chart after the big run-up we saw last week. If we see a price break above $4,105, then we may see ES rally to $4,200. Bull flags are generally high-probability setups, but it's important to remember that this current formation has not been completed yet.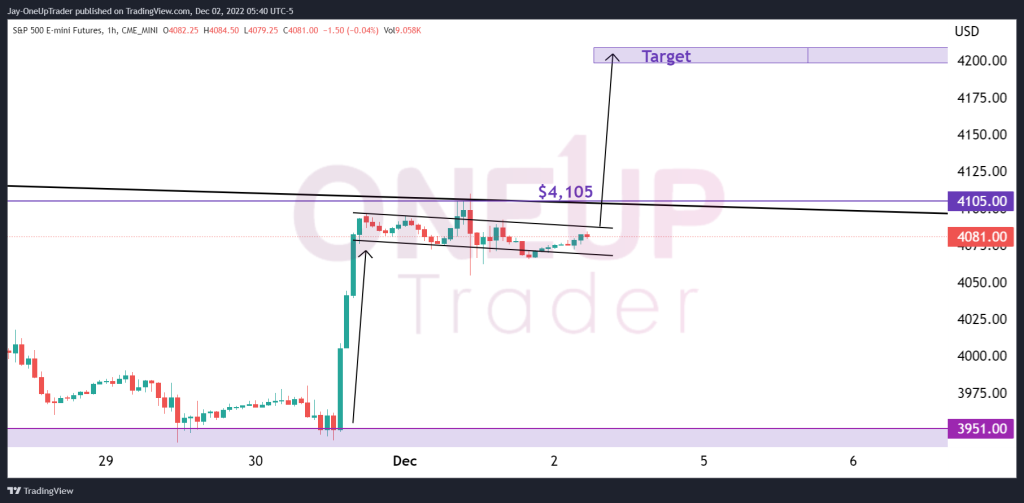 Summary
With the Fed meeting coming up very soon, the market eagerly awaits the decision regarding the Fed's monetary policies. Currently, the market looks bullish, and there is very little to chew on for the bears. If we see ES continue to rise through $4,105, which was our previous target, then the next target of $4,200 will most likely be on the cards.