Market: E-Mini Russell 2000 Index Futures
Key Levels: $1983.5 resistance, $1812.4, and $1641.9 support
Trend Analysis: Rising trendline and volume profile suggest a tentative bullish bias with key levels to watch for potential trend reversals.
---
The last time we looked at RTY was almost a month ago as the price just broke below a support trend line. Now, the market for small caps has lagged behind the large cap stocks. Let's do some technical analysis and see if we expect this gap to close or grow wider.
Support and Resistance
Resistance at $1983.5: This level could be an immediate ceiling for the index, with a breakout opening a move above the psychological barrier at $2000.0.
Intermediate Support at $1812.4: Holding above this level will be crucial for the bulls to maintain the current rebound momentum but the resistance of the previously broken bullish trend line may hold the price here for a while.
Major Support at $1641.9: We might not see prices move this low again but if something happens that causes equities to sell off, this would be the main accumulation area for buyers.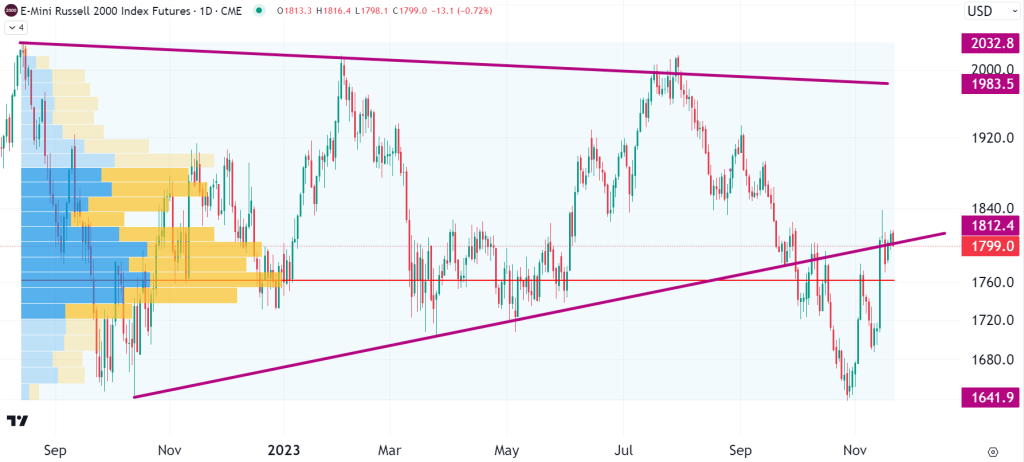 Trendlines and Volume Analysis
A rising trendline, depicted in purple, supports the uptrend from the lower bounds of the recent price range. The volume profile on the left shows significant trading activity around the $1812.4 mark. We can also see the point of control at $1760 that has acted as a magnet for price and since the market is trading slightly above it, could be another place for accumulation.
Opportunities
Bullish Scenario: A sustained move above $1812.4, coupled with increased volume, might favor long positions with a target of $1983.5 and beyond.
Bearish Consideration: Conversely, a break below the supporting trendline and the $1812.4 support level could signal a shift in sentiment, potentially validating short strategies towards $1641.9.
Conclusion
The E-Mini Russell 2000 Index Futures continue to underperform compared to the big cap indices. Where do you think RTY will finish by the end of 2023?
---