Overall Trend Remains Bearish As Momentum Indicator Continues To Slump
Analysis Of Parallel Channel, Moving Average Band, And Momentum Indicator
Potential Game Plan As Euro Continues To Slide
Bearish Trend Continues
There is not much change in the daily chart from when we previously analyzed 6E back in September. We were looking primarily at taking shorts, which would have played out nicely as the Euro has dipped from $1.005 to as low as $0.95920.
There are three technical indicators we can look at to confirm whether the downtrend is still strong: the parallel channel, moving average band, and momentum indicator.
Parallel Channel
An incredibly strong parallel channel can be observed on the daily chart. There have been four tests on the top of the channel, and each one was rejected, producing a generous profit after that. The same goes for the bottom side of the channel; 6E is trending within this channel, which tells us to continue focusing on short positions now. (See Chart Below)
Moving Average Band
Together, a 25 and a 50 moving average have formed a band that traders have been able to short into. The trend angle of this band has remained remarkably consistent since the beginning of the year, and there is no reason to think it will not continue like this until proven otherwise. (Chart Below)
Momentum Indicator
I set the momentum indicator to calculate 365 days, and a clear picture is drawn. The indicator began the year with a reading of -0.03261 and has been trending down since, with readings of -0.09363, followed by -0.16901, and now -0.21926. That's a decline of 555% for the indicator Year to date.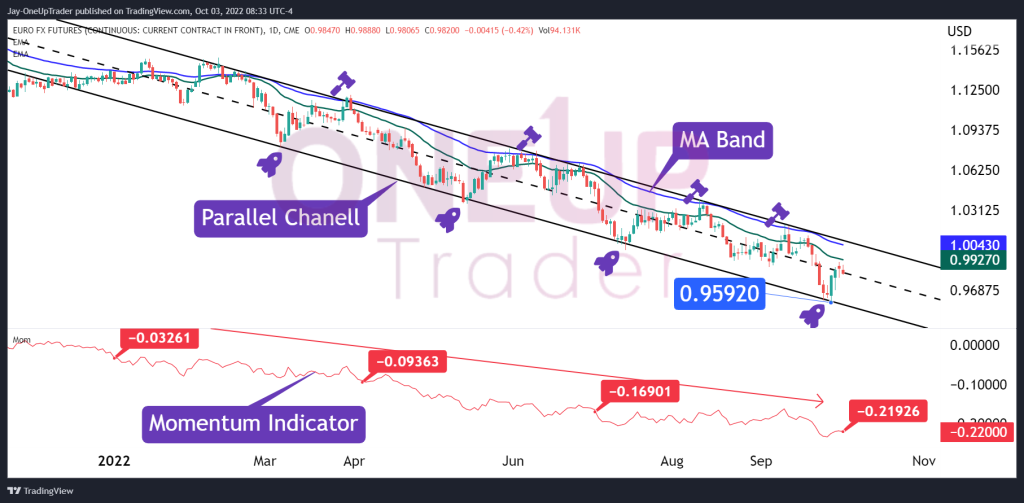 Gameplan For Traders
We know the trend is down, and there is no sign of this reversing, especially as the Dollar continues to strengthen; short trades seem to be the best play.
Traders could wait for the price to retrace into the MA band and then drop to an hourly chart looking for shorts only, with stop losses above the band. Traders who want to trade smaller time frames can monitor the daily chart and begin to aggressively take short entries only once the retracement has been established, e.g., on top of the parallel channel.
There is no medium-to- long-term bull case for the Euro at the time of writing, and caution must be exercised for traders who wish to fight this powerful downtrend.