Eurozone inflation came in higher than expected at 10.0% in September.
ECB policymakers have been drumming up support for a 75bps rate hike.
The euro's decline against the dollar is increasing imported inflation.
Euro (6E) futures prices rose after Friday's inflation reading. Inflation in the eurozone soared beyond forecasts in September to reach 10.0%, a new record high that will raise hopes for another significant interest rate increase from the European Central Bank next month.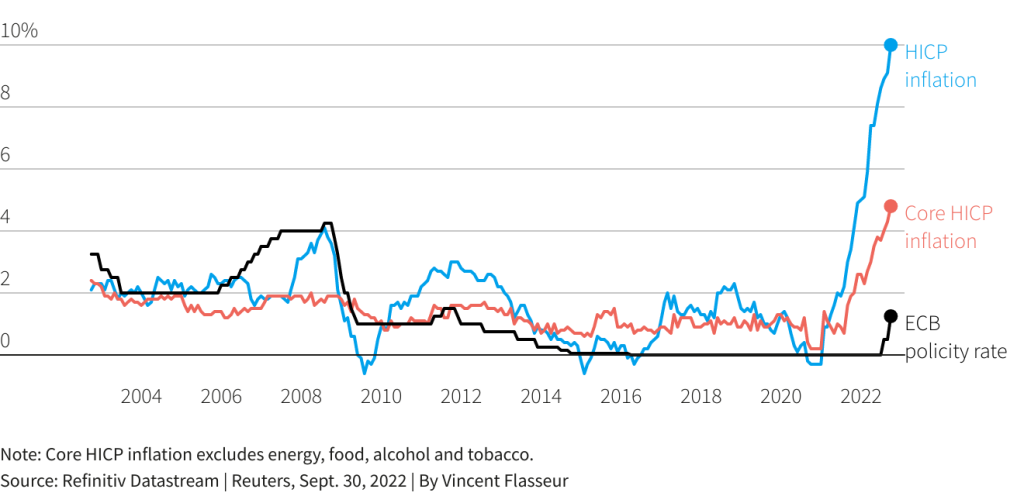 Data from Eurostat on Friday revealed that price growth in the 19 nations that use the euro increased from August's 9.1%, exceeding predictions for a reading of 9.7%. Several eurozone members were seeing the strongest price increases since the Korean War 70 years ago.
"The September reading for inflation is ugly across the board, with all broad categories experiencing accelerating inflation," ING economist Bert Colijn said. "This seals the deal on another 75 basis point hike from the European Central Bank in October."
The ECB constantly monitors underlying inflation, which excludes volatile prices for food and fuel. It also increased to a new level, increasing the need for additional rate hikes following the excessive moves in July and September. Although the ECB's next rate meeting isn't until almost a month from now, several policymakers have already argued for an additional 75 basis point rate increase on October 27. This could push euro futures prices higher.
One major issue is that despite the ECB's repeated predictions, an inflation peak could still be months away when home energy contracts are renegotiated, and record-high gas prices start to trickle down.
Severe drought throughout the summer will keep food costs under pressure. At the same time, the euro's decline to a two-decade low against the dollar will increase imported inflation, especially given that the bloc's energy expenses are largely in dollars.
Confidence indicators have also been declining across the bloc in recent weeks, indicating the eurozone may already be in a recession with little hope of a recovery until the spring. However, this high inflation might give the ECB the help it desperately needs.
Normally, workers would demand significant pay increases during periods of high inflation, but businesses also deal with skyrocketing costs, leaving them with little money to raise wages. As a result, wage growth is being kept in check, and there is anticipation that price growth will stabilize and slow down starting next year.