Oil fell on reports the EU was considering a higher Russian price cap.
US gasoline stockpiles increased by 3.1 million barrels, pointing to slowed demand.
Oil prices got support from the falling dollar after the less hawkish Fed minutes.
Oil prices continued to fall on Thursday after the Group of Seven (G7) countries discussed setting a price cap on Russian oil above the current market price, and gasoline supplies in the US increased more than analysts had anticipated.
The Energy Information Administration reported that US gasoline stockpiles increased by 3.1 million barrels, considerably above the analysts' expected growth of 383,000. This pointed to a drop in demand.
"The build-in gasoline is kind of a shock," said Phil Flynn, an analyst at Price Futures Group. "The increase in gasoline supplies suggests that maybe we're seeing demand weakening or gasoline is going on the rack ahead of the holidays."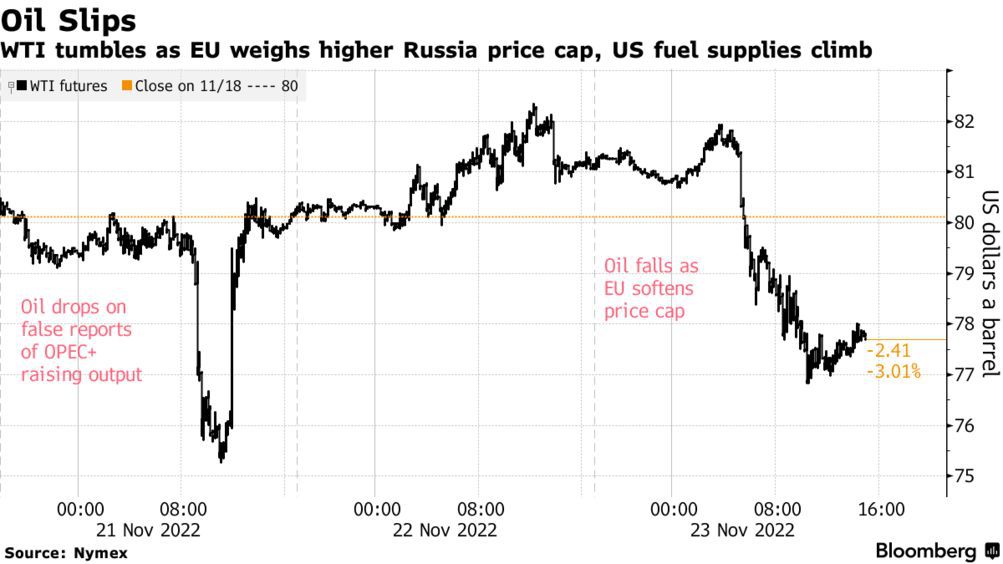 Reports that the G7 price cap on Russian oil may be higher than where it is now trading caused prices to fall further. The G7 suggestion to impose a price cap in the range of $65-$70 per barrel was discussed earlier on Thursday by representatives of the 27 nations of the EU in Brussels, but the number proved to be too low for some and too high for others.
"There are still differences in the price cap level. We need to proceed bilaterally," one EU diplomat said. "The next meeting of ambassadors of EU countries will be either tomorrow evening or on Friday," the diplomat said.
There are increased worries about demand in China, the world's largest crude oil importer after Shanghai tightened restrictions late on Tuesday in response to an increase in COVID-19 cases.
Adding to the pressure on oil was an OECD economic outlook that predicted a slowdown in the global economic expansion next year.
Price got some support after the Federal Reserve's November meeting minutes revealed that most decision-makers agreed it would soon be prudent to scale back interest rate increases. The minutes also revealed a growing discussion within the Fed regarding the dangers that abrupt policy tightening would pose to financial stability and economic growth.
The dollar fell, making oil cheaper for overseas buyers after poor economic data pointed to a slowing US economy. US unemployment claims rose to a three-month high, and the US economy declined for a 5th straight month in November. Higher interest rates also affected demand, with a gauge of new orders sliding to its lowest level in 2-1/2 years.