Supply concerns grow ahead of the winter season.
Geopolitical tensions rise after Putin escalates the Russia-Ukraine war.
Crude oil demand rebound in China, boosting oil prices.
After falling 1% yesterday, crude oil (CL) futures prices rose on Thursday as worries about shortages occurring during the winter outweighed concerns about a possible worldwide recession. The oil price fell to a near two-week low After the US Federal Reserve raised interest rates by 75 basis points for the third time on Wednesday to combat inflation.
On Wednesday, Russian President Vladimir Putin activated 300,000 reserve soldiers to fight in Ukraine and supported a proposal to seize portions of the nation, escalating the conflict and raising geopolitical tension, pushing oil lower.
In the meantime, several Chinese refineries are considering boosting their production in October in anticipation of increased demand and a potential change in Beijing's policy on fuel exports, which might increase the demand for crude oil.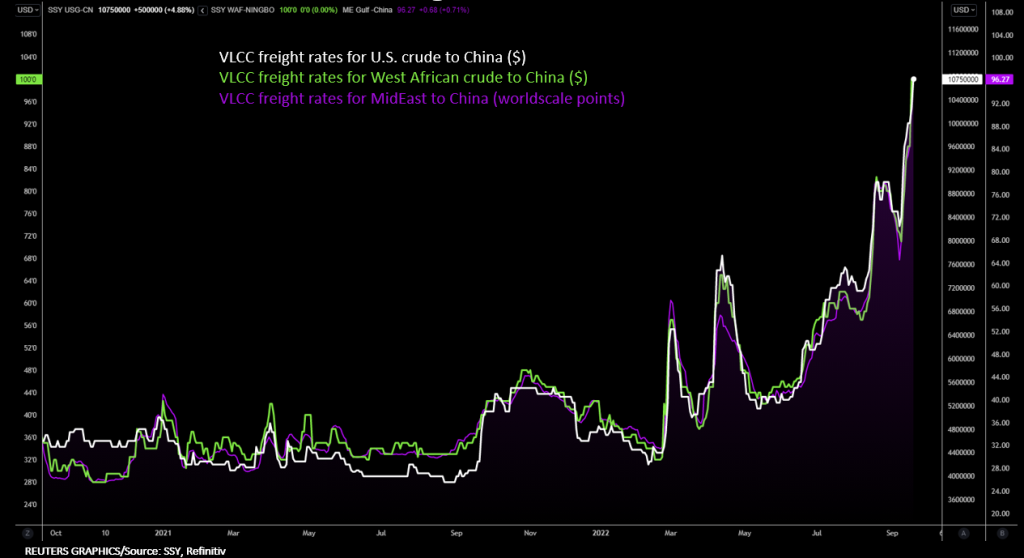 According to statistics from Simpson Spence Young on Refinitiv Eikon, the recovery in China's oil demand has driven lumpsum freight rates for Very Large Crude Carriers (VLCC) sailing from the US Gulf and the Middle East to China to their highest level since May 2020 at nearly $10 million.
"I believe that China-bound freight rates strengthen on the hope of a China demand recovery… the rumor of an extra large amount of product exports in Q4 also fueled market optimism," said Emma Li, an analyst from Vortexa Analytics.
The amount of US crude slated to arrive in China in October is anticipated to reach 450,000 bpd, the highest level since December 2020, up from around 300,000 bpd in August-September.
"But oil prices remain under selling pressure due to inventory stock builds and a worsening economic outlook," said Citi analysts in a note.
On September 16, US oil stocks increased by 1.1 million barrels to 430.8 million barrels, less than experts' projection of a 2.2 million-barrel increase.
Increases in oil prices were restrained by the rising dollar, which hit a 20-year high on Wednesday, making petroleum more expensive for many consumers.
Although demand in the global market is improving, supply worries will continue to weigh on oil prices. The current rise in price might not last long.