US president Joe Biden announces another Strategic Petroleum Reserve release.
There are demand concerns as China's economy deteriorates.
Us crude oil inventories fell more than expected last week, showing improved demand.
Crude oil (CL) futures prices started October and 4Q'22 strong; however, the subsequent price movement has been affected by concerns about the resumption of the global recession and the anticipated announcement of another Strategic Petroleum Reserve (SPR) release by the Biden administration.
President of the United States Joe Biden remarked on Wednesday that he intends to sell 15 million barrels of crude oil from the Strategic Petroleum Reserve (SPR) and repurchase oil if prices decline sufficiently. The reserve release would be the final sale of the 180 million barrels of oil that were going to be sold that were announced immediately after Russia invaded Ukraine in February.
"Realistically, an SPR release is near-term bearish, long-term bullish because eventually, you're going to have to buy it back," said Gary Cunningham, director of market research at Tradition Energy. "Overall, the market continues to swing wildly and chop around on erratic news."
While many, if not all, worries about a global recession have already been included in oil prices, the announcement at the beginning of the week that China will postpone publishing its 3Q'22 GDP data caused worry. Maybe the world's second-largest economy is in a more dire state than initially thought. Thus, the erratic price movement for crude oil prices has persisted, giving up most of the October gains and leaving the market in a technically unclear area.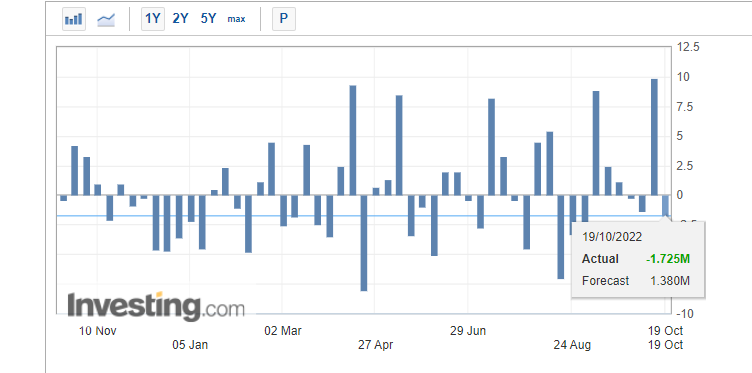 According to weekly official data, US oil stocks surprisingly decreased last week. This was in contrast to predictions for a 1.4 million barrel increase.
The Organization of the Petroleum Exporting Countries and other producers, including Russia, together known as OPEC+, reduced output by 2 million barrels per day and threatened to impose an embargo on Russian crude and oil products, which supported prices.
"They want Brent around $90, so they're going to get it and continue to cut output to hold that number," Cunningham said, referring to the OPEC+ cuts.
Uncertainty surrounds the world's fuel demand. The Federal Reserve said on Wednesday in a report that showed businesses becoming more pessimistic, that economic activity in the United States has increased marginally in recent weeks, despite being flat in some places and declining in a few others. Crude oil might continue pushing lower.