Crude oil futures trading sideways ahead of the OPEC+ meeting.
The demand for crude oil decreases amid a poor global economy.
The crude oil price is technically within a pennant, looking for a bearish breakout.
Following a drop of 1% in the previous trading session, crude oil (CL) futures prices were flat on Wednesday ahead of OPEC+ producers' meetings.
Brent oil futures fell three cents, or 0.03%, to $100.51 a barrel at the time of writing. West Texas Intermediate (WTI) crude oil futures remained unchanged at $94.42 a barrel.
On Wednesday, the oil-exporting countries and their allies, including Russia, will meet under OPEC+. According to Reuters sources last week, the OPEC+ group is expected to maintain or increase production in September.
While recession fears mount, analysts don't expect any change in demand. Saudi Arabia may be reluctant to increase production at the expense of OPEC+ partner Russia, which is under sanctions due to the Ukraine crisis.
According to Edward OANDA and senior market analyst Edward, oil prices should remain in a certain range until OPEC and its partners decide how to increase production in September.
Demand is being weighed down by several factors, including fears of an economic downturn in the US and Europe, debt woes in emerging markets, and China's COVID-19 policy, said Vivek, an analyst at Commonwealth Bank.
Crude oil (CL) futures technical analysis: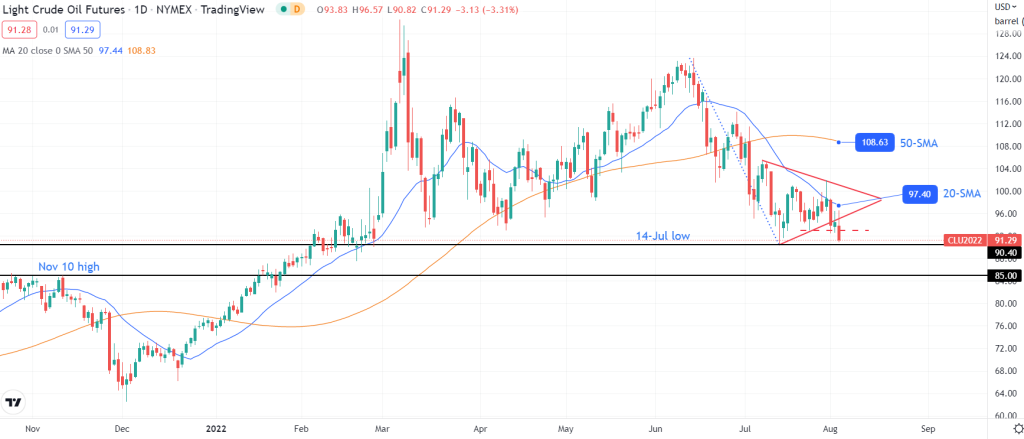 As investors await the outcome of an OPEC meeting on new pending oil offerings, WTI crude futures have defended intraday lows of $92.79 but are likely to remain sideways. Overall, oil prices fluctuate within a range between $90-98.
CL is currently trading in a bearish pennant on the daily timeframe. Breaking the pennant may trigger further strong sell-off. However, the price may retest the broken structure before resuming the downside.
It is observed that the black gold experience a lot of selling pressure at around $97.40, as it attempted to close above the 20-period SMA. Furthermore, the 50-SMA is trading higher at $108.63, suggesting a bearish trend in the short term.
Oil prices could trade into the $85 key level which was created on November 10, 2021, if it breaks the low made on July 14 at $90.40.
On the flip side, if the price breaks the pennant on the upside, the bulls may aim to test the dynamic resistance at 108.63 (50-SMA).