The British pound fell for the third consecutive day on Monday due to a combination of factors.
The dovish forecast by the Bank of England continued to pressure the pound downward.
The Fed's aggressive remarks about raising rates and the lack of risks boosted the safe-haven dollar.
Although a significant recovery is unlikely, oversold conditions have helped limit further losses.
During the early London session, the British pound futures (6B) managed to slightly recover from their lowest levels since June 2020.
After a dovish BOE rate hike last week, the British pound suffered heavy losses and saw some follow-up selling for the third straight day on Monday. The Bank of England raised interest rates to their highest level since 2009 but warned that recession was possible. However, a gloomy outlook suggests that rate hikes are ending, negatively affecting the British pound.
On the other hand, the US dollar was close to a two-decade high as the market expects the Federal Reserve to tighten monetary policy faster to curb inflation. Fed rate hikes are still expected to reach 200 basis points by 2022. This pushed benchmark 10-year Treasury yields to their highest levels in over a decade, and the prevailing risk sentiment supported the safe-haven dollar.
Fears of slowing global growth and a potential recession have intensified due to expectations of a quick interest rate hike by the Fed and strict COVID-19 lockdowns in China. Consequently, the global attitude to risk weakened investors' appetite for riskier assets. Additional losses are likely due to the flow of anti-risks and the differences between the Fed and the Bank of England's policies. However, the British pound found some support just before the 1.2200 midpoint due to oversold conditions.
What's next to watch?
Since the British pound hit a daily low, futures prices have recovered about 30-40 points, but a significant uptrend still seems elusive. Therefore, any subsequent price increase will likely attract new sellers, and the risks will diminish fairly quickly. Traders will gravitate towards the price momentum of the US dollar in the absence of any major market-affecting economic reports from the UK or US. Meanwhile, Bank of England member Michael Saunders's planned speech may boost the British pound futures.
British pound futures (6B) technical analysis: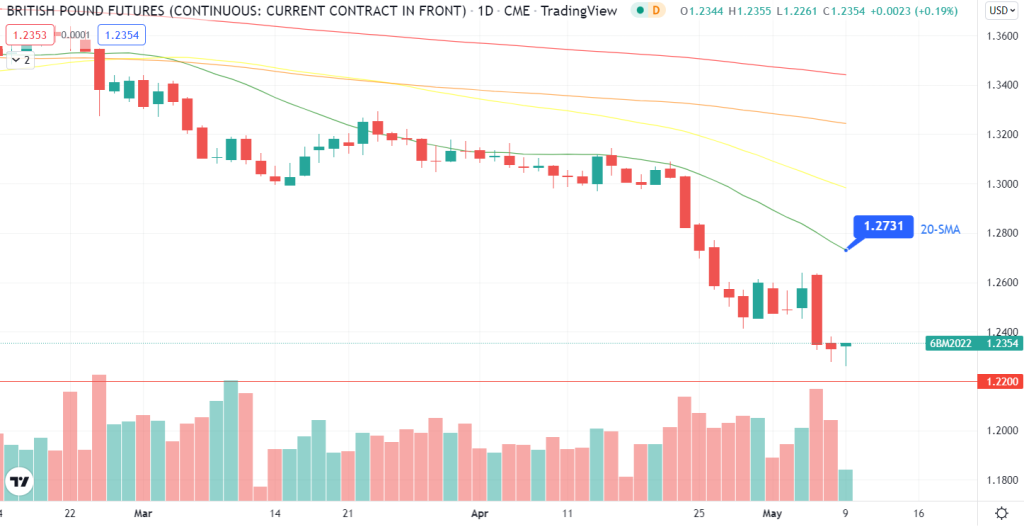 The 4-hour chart of the British pound shows a strong bearish scenario as the price lies well below the 20-period SMA. However, the volume for the last three bars is on the decline. It indicates that the British pound is already oversold. However, market participants should wait for a corrective pullback or a bullish reversal sign to enter the market.
On the downside, the round number at 1.2200 may act as strong support, while on the upside, the 20-period SMA will be the key resistance to watch.