Crude oil futures (CL) falls amid a firm USD and China's lockdown.
The EU's embargo on Russian oil is delayed amid exceptions requested by Eastern European countries.
Technically, the price of CL remains supported above $100.29 support.
The price of crude oil futures (CL) dropped more than 1% on Tuesday, extending its losses from the previous day as the lockdown on China, a strong dollar, and rising recession risks fanned concerns about global demand.
Brent crude fell $1.20, or 1.1%, to $104.75 a barrel after falling to $103.10 at the time of writing. US West Texas Intermediate oil prices fell $1.07, or 1%, after hitting an intraday low of $100.44. Each benchmark posted its largest daily decline since March on Monday, falling 5-6%.
Investors sold riskier assets due to concerns about high-interest rates and the consequent impact on economic growth, which reflected trends in global financial markets.
Oil became more expensive for those holding other currencies as the dollar held near a 20-year high.
ING's head of commodity research, Warren Patterson, stated, "The COVID situation in China, rising interest rates, and mounting recession risks are not helping risky assets."
As the country continues its lockdown to curb the spread of COVID-19, China's export growth has slowed to single digits, its weakest performance in nearly two years.
Last week's hike in oil prices was caused by the European Commission's proposed embargo on Russian oil. However, Eastern European members requested exceptions and concessions, and the approval was delayed.
Following pressure from Greece, Cyprus, and Malta, a new version is expected to lift the ban on EU tankers carrying Russian oil.
Patterson said that EU members struggle to reach an agreement, suggesting the package may weaken further.
Additionally, markets are paying attention to fears that some European countries' economies may suffer from further cuts to Russian oil imports or a reduction in Russian gas supplies if Russia responds.
Reuters reports that German officials are preparing for a disruption in Russian gas supplies. Taking control of critical companies might be part of the emergency package.
An interruption of Russian gas supplies to Germany would cause a deep recession and result in the loss of half a million jobs, the senior economist said in an interview published on Tuesday.
A new proposed sanctions package against Russia will not be accepted until Hungary's concerns are addressed.
According to a Reuters poll of weekly data, the United States is likely to have experienced a decline in crude oil, distillates, and gasoline inventories.
Crude oil futures (CL) technical analysis: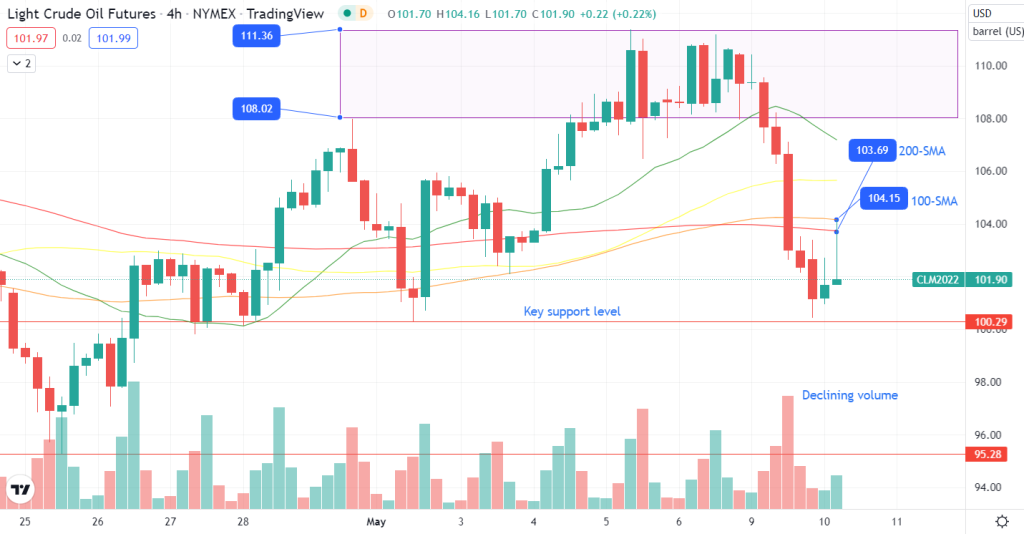 Crude oil futures (CL) price attempts to recover from the daily low. The volume of the bearish candles declined, indicating that the downside could be limited. Finally, the price found some decent support ahead of the $100.29 level.
However, it is important to see how the price will react around the conjunction of 100 and 200 SMAs on the 4-hour chart. The key resistance levels for the CL are at 108.02 ahead of 111.36. On the flip side, if the price breaks the 100.29 support, the bears may aim for the next support level around 95.28.