There is an inverted hammer that has formed on the daily chart.
Setting targets for the head & shoulders pattern on the hourly.
Analyzing why bears appear to be in control at the moment.
Daily Chart Analysis
In yesterday's session, we saw NQ attempt to break out of a small support zone that has formed on all the US indexes, as mentioned in yesterday's S&P 500 article. The candle closed and formed an inverted hammer pattern. For this pattern to confirm, we need to see a close below yesterday's low. This may take a few days, but it is necessary if we want to see the candlestick pattern confirm.
If we see the NASDAQ close below yesterday's low, it immediately confirms that the power is in the bear's hands, and we would be looking for targets far lower than the current market price. This inverted hammer is powerful because of the failed breakout of the support zone.
Bearish targets would be $10,740.75, which is the low of the support band which has halted NQ futures from making new year-on-year lows. The second bearish target would be the S1 level of our pivot points at $10,407.75; if that level breaks, a move to $9,793 would be possible.
The bulls are hoping for a move above yesterday's high, which is directly on the daily pivot point (Orange Line). If that occurs, we could be looking at NQ Futures rallying back into the consolidation zone between $11,514 & $12,125.75.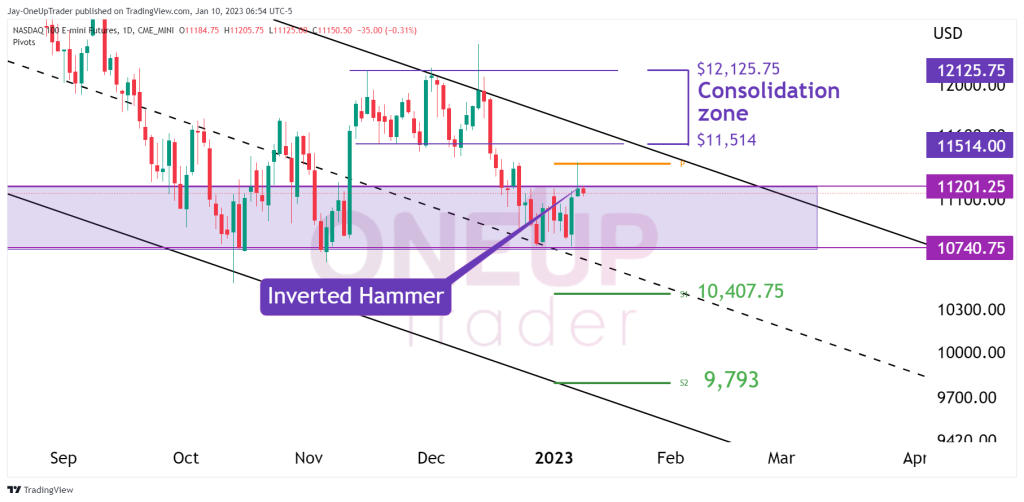 Head & Shoulders
There is a head and shoulder pattern on the hourly chart, which we can monitor keeping the longer-term analysis on the daily chart in mind. The head and shoulders can give us a good indication of what today's price action will be. A break below the neckline could lead to a bearish target of $10,874.75. 
Summary
NQ bears appear to have the upper hand at the moment. The head and shoulder and inverted hammer show just how much strength they have over the bulls. Bearish targets have been set as well as bullish targets in case we do close above yesterday's high.