With the recent trend in electric vehicles, a lot of people assume it is a comparatively new means of transportation but that idea is far from correct. There has been a competition between electricity-powered and gasoline or steam-powered automobiles ever since the origin of non-horse driven carriages.
Before the arrival of current electric vehicle brands like the Porsche Taycan and the Tesla Model S, there were already vehicles that used electricity to function, and the main points we will be covering in this article is GM's lineup of electric vehicles.
In a publication, General Motors informed the general public that by 2025, they plan to sell more than a million electric vehicles every year in China and the USA. They are not alone in this revolution as Tesla electric vehicles are making waves, hence, causing investors to push in more money into their business. This caused their stock price to rise more than 50% after sales of about 10 billion dollars in the past three months as the company position itself to lead the world in electric vehicle production.
However, General Motors is trying to establish that they are right behind Tesla in this production and when sales of electric vehicles finally take off, they will emerge a winner or close to that position.
On the 4th of March, 2020, General Motors had a conference at its technical center in Warren, north of Detroit, where it presented a complete plan to manufacture numerous inexpensive electric vehicles in the coming years. These vehicles will comprise solid cars, large pickup trucks, etc, and most of all will beat Tesla at price rates as they would be affordable for countless numbers of standard consumers.
By 2023, they will have about twenty different kinds of models available and these will comprise a more spacious edition of the Chevrolet Bolt EV available this year, and two electric SUVs of Hummer and Cadillac Lyriq model available by 2022. One of the officials of G.M. explained in a comment that the aim of this is to ensure a healthier and cleaner planet.
Aside from the aforementioned models, others that will be on the line thereafter will include a Hummer truck, two Buick SUVs, and a Chevrolet SUV. While GMC will market the Hummer models, Cadillac will obtain a new luxury sedan as well which would be named, the Celestia. According to G.M., it will be handmade and this is a method only used to make high-quality luxury cars. The aim will be for it to attract customers so that they could abandon Tesla's flagship, the Model S. They plan to use the intended move to change people's notion about Cadillac and hopefully, it would be a comeback for Cadillac.
For a while now, Tesla has made the highest sales of electric cars in the USA and globally with a total sale of 367,500 cars in the year, 2019. This growth seems like a never-ending one as after producing its Model 3 sedan at a new plant in China, it is already getting set to establish another one in China too, but at a different location.
This is the reason why everyone is waiting on Tesla to launch their fourth model, the Model Y either sometime later in the year or the early months of 2021. With this new launch and the establishment in China, Tesla will likely lead the world in the production and supply of electric vehicles.
On the side of G.M., they have manufactured just a model known as the Bolt with 24,600 total sales in the USA last year. This is not an issue to G.M. as they believe that they will top the market or tag along when they reduce their electric vehicle prices and manufacture more models to give the customers a variety of options.
Though Tesla was profitable in the fourth quarter, it has not posted a full-year revenue since its start in 2003. Ms. Barra, head for G.M. said that its new set of electric vehicles would make profits soon after it introduced its first models.
Ms. Barra and other G.M. executives hinted that Wall Street had not acknowledged their progress in manufacturing electric models as they prepare to manufacture them in large quantities. Their current shares stand at 25 percent of their 52-week high in July and this is a total revolution for the company.
Most of the various vehicle manufacturers are struggling as well to introduce electric vehicles, to fulfill the ever more severe emissions rules that will begin in Europe and China over the next few years.
The Ultium, GMs Next Generation of Vehicle batteries
GM revealed on Wednesday, a recently manufactured set of batteries, electric motors, electronics, and vehicle architecture that emphasize its plan. An executive of GM explained that it can use these components to build any model.
They will as well integrate common parts in the manufacture so that they reduce the cost of production to satisfy the low prices they will charge for the electric cars. G.M. has also cooperated with LG Chem to make cheaper batteries by dipping the necessity for costly materials and an official explained that the batteries cells for the cars will use 70 percent less cobalt than earlier versions.
Additionally, the combined forces hope to manufacture batteries that do not require nickel or cobalt that are expensive materials for battery production as they set up a battery plant in Ohio.
Wall Street pushes for GM to spin off its electric vehicle business
Wall Street mounted pressure last August, for General Motors to develop its electric vehicle business rapidly so that they can surpass Tesla and other growing companies. Deutsche Bank hinted that GM has a net worth ranging between $20 and $100 billion, and a total market cap of $43 billion at the moment. The CEO of General Motors, Mary Barra said last month that "nothing is off the table" when it comes to the company unlocking shareholder value and the less GM maintains the electric vehicle operations, "the higher its value".
Analysts suggested that GM split the operations, to force the market to be aware of its sophisticated technology. Morgan Stanley analyst, Adam Jonas also recommended that GM change its name to match better with its rising technologies. He suggested that it now bears "Ultium," after GM's next-generation vehicle batteries.
GM CEO and Chairman Mary Barra, who is known for her firm defense on the company decisions didn't kick out the ideas surprisingly. She said she appreciates the input and would be glad to lead GM into making changes that would increase the value of their shares.
She said, "we are evaluating and always evaluate many different scenarios, so I don't have anything further to say other than, we are open to looking at and evaluating anything that we think is going to drive long-term shareholder value".
GM unveils the Cadillac Lyriq as a show car to spearhead its new 'technology spearhead'
On the 6th of August, 2020, General Motors revealed the Cadillac Lyriq as the "next chapter" for the American luxury brand and a "technology spearhead" for GM.
GM revealed the Lyriq as a "show car" with the warning that most of the vehicle's features will find their way to merchant lots. Show cars are usually vehicles that one intends to produce hence, depicting the company's vision.
The Lyriq is the first to have GM next-generation batteries and EV architecture and this makes the GM executives consider that the technologies will oppose, if not better, any other technology available plus that of Tesla.
This is a chance for the company to turn around, recover the drive, and place the Cadillac brand for its next phase. The Lyriq comprises an enormous diagonal 33-inch curved LED screen on the interior, sophisticated illumination technology on the exterior, and GM's Super Cruise driver-assist system. It places the Cadillac further as a technology spearhead for General Motors.
GM hopes to make almost all of its Cadillac cars and SUVs it will sell worldwide electric vehicles by 2030. Costumers expect the Lyriq to arrive in U.S. showrooms in late 2022 though it will first launch in China, which is the world's largest electric vehicle market, soon before the U.S. release.
A sneak peek into the Cadillac Lyriq show car
The Lyriq will come in both performance all-wheel-drive and rear-wheel-drive systems though the performance model will not propose a front truck, also known as a "frunk," that you will find in many new all-electric vehicles as they have no engine.
The exterior of Lyriq
The Lyriq has a lighted Cadillac crest and several light bars that form a black "grille" around the logo at the front which is one of the first things you will notice on the exterior. It also has upright lighting similar to headlamps and long rear brake lights you'll see in recent Cadillac vehicles.
The headlights and other lights on the vehicle will "recognize" when a driver is approaching, by instigating a composed lighting sequence as also readying cabin features like the driver's seat, mirrors, and climate systems.
The illuminated Cadillac crest
When the crest has recognized you, there is a 33-inch-diagonal superior LED display that incorporates a single, large screen that covers the viewing area for the driver and integrates driver information details, infotainment controls, and camera views. GM says the display has the highest pixel density you can find in the automotive industry as it can show over 1 billion colors.
It is a remarkable work of engineering and industrial design. GM noted that "they wanted to make it feel like a piece of jewelry, so it does kind of float". Additionally, you can park it via remote self-parking.
The mileage range per charge
GM hints that the vehicle has a probable range of more than 300 miles on a single charge and is a bit less than Tesla's Model Y having a mileage of 316 miles on a single charge and far less than Tesla's longest-range vehicle, the Tesla Model S sedan with more than 400 miles.
Affordability
You will not have to spend much to purchase the Cadillac as it has price range as normal vehicles that integrate gasoline for their operation.
GM plans to rival Tesla with a new electric truck

General Motors has plans to join forces with Nikola Badger which is sited in Arizona in a $2bn (£1.53bn) deal to produce an electric/hydrogen pick-up truck. The Badger will integrate a combination of hydrogen-oxygen gas to best Tesla's Cybertruck which is battery powered.
There are speculations that they will unveil the Badger in the later months of 2021 and begin production of the vehicle in 2022 which is around the same time when other rivals like Ford will be launching their models too. A part of the deal establishes that General Motors will get an 11% stake in Nikola.
In an agreement, GM agreed that it will provide hydrogen fuel cells to Nikola for its Class 7 and Class 8 semi-trucks. When the electric vehicles revolt hit the world, there were lots of speculations relating to how unreliable they could be but currently, countless people have accepted and grown confidence in them as they make purchases and done trials that proved successful. There was the estimation in July that Tesla would have a worth that is about three times the joint worth of Ford and General Motors.
Earlier this year, Nikola was able to be one of the world's most valuable car manufacturers even though it had not made any sales yet. The company has made plans to situate several hydrogen charging stations all over the UK and Europe around sometime next year.
It is presently one of the few companies hoping to develop Lorries and vehicles that are powered by hydrogen. The partnership between the two companies is the second most important announcement from GM after it just announced that it would join forces with Honda in North America to produce cleaner vehicles that are currently on high demand there.
GM venture's mini car becomes China's most sold EV, surpassing Tesla's Model 3
In July, General Motors was able to combine its force with SGMW and SAIC Motor Corp to manufacture the Hongguang MINI EV model which is a two-door micro electric vehicle. You can find the vehicle in the market for 28,800 Yuan ($4,200) which is less than 10% of the 291,800 Yuan starting price for Tesla's China-made Model 3 vehicles before they get government subsidies.
The head of the GM branch in China, Julian Blissett informed Reuters in August that it would revamp its spotlight on luxury Cadillacs, produce bigger but greener sports-utility vehicles (SUVs) and aim for entry-level buyers with low-cost micro electric vehicles.
GM details 12 upcoming electric vehicles from Cadillac, GMC, Chevrolet, and Buick
General Motors released its Sustainability Report in July 2020 and released some extra information about 12 of the 20 upcoming EVs they promised will be in the market by 2023. The first models to come will be Buick, Cadillac, Chevy, and GMC Hummer with the GMC Hummer to be the first vehicle to arrive on dealership lots with GM's next-generation "Ultium" battery system next year
Although some of these vehicles are on US soil now, others might just launch in the China market. Both way, it's a bold plan by GM and these vehicles include;
Cadillac
The first and the one we know at the moment is the Cadillac Lyriq SUV which is the first EV from GM's luxury brand, and would probably begin sales in mid-2021. Though the vehicle has an electric internal, it still holds on to the traditional styling of a gasoline-powered SUV, which should maintain some appeal for traditional Cadillac buyers who prefer a cleaner vehicle without ultramodern fashion. When previewing the vehicle, we were able to image it more like a high-riding wagon instead of the SUV it is.
Electric Cadillac Escalade Coming by 2025
If you desire a bigger kind of vehicle like one having about three rows, then the luxury brand is offering up a "globally sized" SUV highlighting the interior space and cargo. You might think this vehicle will draw its inspirations from the Escalade totally, but GM assures you that it has that in mind too. Cadillac hints that it will be a full-size third-row SUV drawing DNA samples from the Escalade and would be sold mostly on US soil.
If this model is not for you or is too big, then you should still sit back and relax as the brand is planning to manufacture a smaller piece of Cadillac luxury, an XT4-size crossover that will make waves worldwide where you will find smaller SUVs making waves.
Let's say you are a fan of luxury and Cadillac at the same time, then the Celestiq which is the flagship of the company is a very luxurious vehicle that will suit you. Speculations hint that it will be a handmade ultra-luxurious four-seater which means that the company will manufacture just 1.2 vehicles daily. This will make its cost escalate and could be around six-figures. The hatchback will integrate 23-inch wheels with long and low proportions while in the interior; there would be a single screen that will occupy the whole dashboard area.
GMC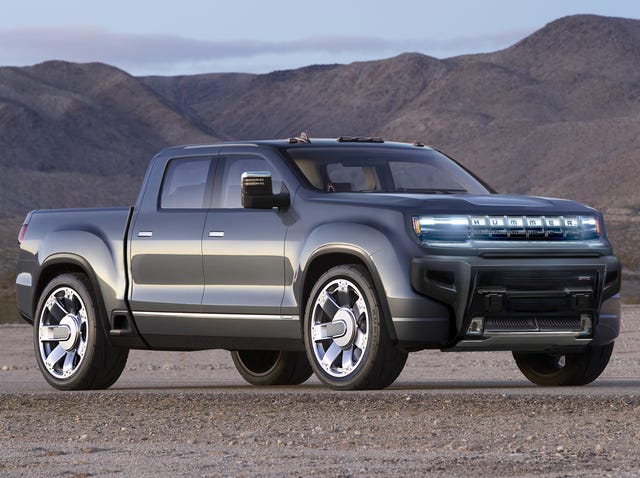 An advert for the GMC Hummer's 2020 Super Bowl illustrated to the world that the brand which had large powerful vehicles that consume petrol in excess will transform into a powerful truck snorting electrons from its nostrils. Their flagship, the Hummer EV SUT would likely begin accepting purchases in late 2021 as a 2022 model, as it sports an extraordinary horsepower of 1000 and an astonishing claim of 11,500 lb-ft of torque. The battery that will be used to power such vehicle will be a tough one that has an electric power of about 200.0 kWh.

GMC won't stop there as following it will be a Hummer EV SUV that has similar specifications as the Super Bowl. Though they would have identical regions from the rear doors forward, the truck will have a longer wheelbase to explain the reason for the five-foot bed. In a preview, we saw that they will both have removable front roof panels, a 15-inch infotainment screen, and a 12-inch digital instrument cluster.
Chevrolet
The Bolt EV, one of the models for Chevrolet is currently in action running around the entire USA hence making its popularity grow too faster than other General Motors brands. There would be a new interior in the Bolt, a 2021 facelift, and possibly, an extra range bump for the model year as in 2020 when the company increased its range from 238 to 259 miles.
Their second vehicle is a mid-size SUV which is to be on sale only in the U.S. market as most Americans prefer SUVs and one with an electric concept will make waves and draw customers. The possible time for the purchase of the vehicle is in 2025 and bearing that in mind, the Bolt will have a EUV modification with SUV styling motivated by the Chevy Blazer. It will have a wheelbase that is three inches longer than the regular Bolt hatchback and will be the first non-Cadillac to have Super Cruise; the GM's hands-free driver assistance system. It'll launch in the summer of 2021.
Chevrolet also aims at having its own electric truck that looks like the electric Ford F-150 and would of course rival it. The probable time of production is in 2025, which means that it will arrive four long years after the release of the Hummer SUT. It might also have a battery pack that holds an impressive 200.0 kWh of electricity just like the Hummer though it is meant to be for utility usage for lifestyle buyers.
Buick
Alas, the Buick which is a GM brand making waves in the China market where EV implementation is far higher than that of the United States. General Motors hinted that the brand will be releasing two new electric vehicles; an electric Buick SUV that will present "more conventional crossover proportions" and have "greater emphasis on form and athletic fashion", and the Cruise Origin autonomous vehicle, you can't buy or drive yet till the company has finalized when it will be released for customers.
Conclusion
Unlike other car brands that are competing in the run for the production of the electric vehicles, General Motors are following a distinctive path to rank among the top producers if not the topmost. Through careful planning and strategy, they are finding ways they can best the top manufacturer and supplier, Tesla while still providing the customers with quality and superior electric motors.