Due to the COVID-19 pandemic outburst, several businesses have closed down and this has interrupted the normal flow of business activities in many industries. Hence, retailers and brands are facing several challenges like the marketing and sales of their products, cash flow, demand of customers, supply chain, number of workforces, and health and safety of the workers.
Nevertheless, it is not just enough to bypass these challenges because when we have completely emerged from the pandemic, the world will have a new face. Many sectors like that of tourism and hospitality are no longer functional; everyone is urged to abandon those duties that will not help boost the value of the company.
Most companies also are, currently, not hiring staff as everything turns digital gradually with less physical labor and more online presence. This is why you will find an unusual growth now in online shopping, entertainment, communication, etc.
Markets During COVID-19
Lots of popular brands will probably go bankrupt due to the COVID-19 outbreak as consumers remain in their houses with the economic shutdown. An example is in the United States of America where well-known companies like Sears, JC Penney, Neiman Marcus, Hertz, and J. Crew are under massive economic pressure.
Another industry that had the worst impact was the travel industry. Up to 80% of hotel rooms around the world closed, airlines were not operating and hence, reduced their employees by 90%, and tourism destinations seemed to make no profit at all in 2020.
Lastly, the automobile industry which is quite important also closed down but opened two months later while the lockdown was still in enforcement. All these issues will combine to change the face of the world and in this situation; lots of questions will be surging through our minds. It could be; how do we take care of employees in such situations? Why are companies not better equipped to handle such circumstances? How are the companies and even countries using the present circumstances to improve their competitive situation?
Well, it will be surprising to hear that while other countries or businesses are in penury, there are some which are booming. An example is China, which is currently buying European-based infrastructure and technology in the face of the present situation.
Additionally, some businesses that are related to the internet like online entertainment, food delivery, online shopping, online education, and more are making the waves with everyone now fixed to the internet from the comfort of their homes.
This shows that markets are dynamic and not static as they can move rapidly in any situation. Moreover, a market is not just a company but a network of actors (i.e., companies, clients, public businesses) following certain rules and customs. These networks are sometimes called dynamic ecosystems that thrive to create worth. The COVID-19 outbreak provides an exceptional chance to learn how markets are created and how they vanish in a short time.
Organizations now employ virtual means of recruitment, training, and socialization to satisfy the normal face-to-face communications and this becomes a necessity in most sectors like schools, businesses, and healthcare as these industries all embrace digital technology and will retain it as a second option. One of the digital platforms most of the sectors employed for their communication is " Zoom".
Hence, the pandemic has proved now that you do not need to dress up and go to your workplace to be productive. You can as well do almost all from your home and the comfort of your pajamas.
Post-Lockdown Business trends and Office Use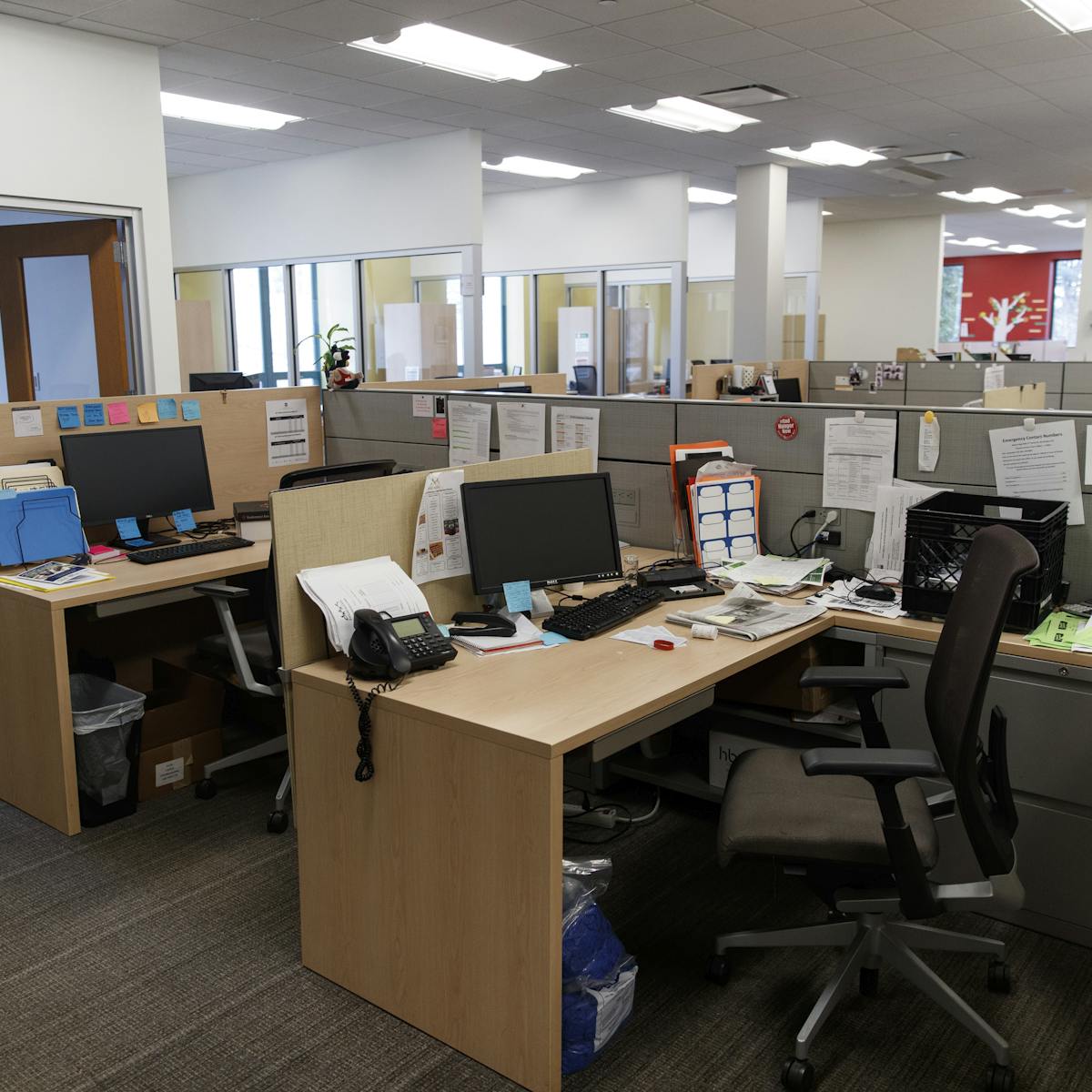 However, it does not mean that workplaces will not function again, as even some big businesses are paying staff to return to work with the government approvals. With gradual ease of lockdowns in countries, people have visited the world once again and retailers have begun to make sales once more. Still, most people with white-collar jobs are now enjoying the benefit of working from home while some are not even anxious to begin external work.
This could be as a result of the residual fear COVID-19 placed in their hearts and the troubles associated with office work. However, the social distance rule still functions and this is another factor that will see the reduction of the numbers of working staff. Companies are trying to be safe now and with rules in place like turning off the air conditioner, placing sanitizers, plastic barriers mounting, etc; most people will just prefer they stay at home.
However, there are some advantages to working from home instead of going to your workplace. They include;
Boosting Employees happiness
The issue of working from the comfort of your home is no issue at all for most people as employees are even happier now. Why is this so? People believe that they would spend less and not experience the usual challenges they face when going to work, at work and even returning from work. Also, the usual time taken to have a meeting is reduced as the unimportant topics are scraped off completely.
Improvement of Productivity
Workers become more productive too when they work from their homes. How is this so? In nearly all the countries of the world, the average worker reports that he/she was able to complete more tasks at home than at work with the lockdown in place. With the current situation, however, it could be quite difficult to ascertain if it is more efficient to work from home or at the workplace.
For instance, mothers are caring for their children who aren't in school now and this could take up their time to complete a task. However, this is not completely true as most people run a schedule at home now to ensure they work when it's time and take care of the kids when it's time. Additionally, most of the other siblings do that too.
Possible Record of Artificial Productivity
It is possible too that productivity reported with the lockdown in place cannot be completely relied upon. Though the workers were told to report their productivity and the figures, their reports may not be completely reliable. It is also important to note that people who were allowed to work from home would prefer that than lose their jobs in the face of this global crisis.
It is no news that countless individuals lost their jobs. Hence; you could be switched immediately if it is found out that you have not been productive. This would make people focus on their jobs properly even though they work from home.
COVID-19 Crisis Created Home-Based/Office-based Work Dynamism
Most people now believe that it is more efficient to work from home than at the workplace and very soon, office work will be scraped out. One explanation that supports this idea is the fact that an office space came into play when people began needing somewhere to work from and store their numerous paper documents. Since the world is currently shifting from paper use and all is going digital with the use of soft copies now, this may be a true case.
Now, people understand that they could obtain a form online, fill it there, and submit it with their passports and signature without even standing up from their beds. This is a type of equilibrium the world is experiencing now, which also illustrates the capability of working from home.
Factors that Previously Inhibited Home-based Office Work
Brent Neiman of the University of Chicago hints that three factors are preventing the increase in home-working before now. The first is information. Bosses were not aware that it wasn't really necessary for the staff to cluster in an office to achieve their tasks. They were able to understand this better now in the last six months.
The second reason is that of co-ordination, since people would be suspicious of firms that do not have an office building. With proper coordination, customers now see that you do not need an office building to function.
The third-factor is about investment. Companies previously invested lots of money in rents, maintaining the office place, providing lunch, etc. However, all these weren't necessary for a while now as workers could simply browse into and out of their kitchens while working on their laptops.
Home-working Post-Pandemic: What May Happen to Office Going Forward?
How the face of office work will look once the pandemic is completely over will depend on an agreement between companies and their staff. It will as well depend on if companies accept or rebuff the contentious theory that working from an office might hamper productivity.
Researchers who have studied physical proximity (i.e., the distance employees need to travel to engage in a face-to-face interaction) since the 1970s have opposed the question of whether or not it aids or hampers teamwork. The case mainly centers on the degree to which the bringing-together of people under one roof encourages behavior favorable to new ideas, or if doing so brings about idle gossip.
An example of this study was carried out in 2017 by Matthew Claudel of the Massachusetts Institute of Technology (MIT) and his colleagues. Their study involved papers and patents produced by MIT researchers and the geographical distribution of those researchers. They were able to discover an optimistic connection between proximity and teamwork.
However, when they observed the MIT buildings, they discovered little geometric proof for the theory that "centrally positioned, densely populated and multi-disciplinary spaces would be active hotspots of collaboration". This simply means that proximity can bring about fresh ideas in people though they don't need to be at their workplace to do that.
Downsides of working from Home
On the other hand, not all about working from home is pleasurable. In July a study from economists at Harvard, Stanford, and New York University discovered that the common workday when the world was on lockdown was about 50 minutes longer than the usual time and that most people began sending emails after their working hours.
Also, it is not all workers that agree that they enjoy working from home. Leesman, a personnel consultancy, has examined the practice of more than 100,000 white-collar workers across the rich world countries during the pandemic and was able to discover that there is a variation in the satisfaction with working from home depending on the person's dedication to an office desk space or not.
In April, Mr. Neiman and Jonathan Dingel, both of the University of Chicago, published research that showed that across rich countries, almost 40% of the employees had jobs that they could probably complete from the comfort of their kitchen tables.
Proof of concrete working planning in the pandemic period supports those speculations. A paper from Erik Brynjolfsson of Stanford University and colleagues, looking at American data, implies that almost half of those employees that began work before the pandemic was introduced into the work-from-home idea in May.
The Tides Turned and Rolling your Way
It is equally not everyone that can efficiently work from home, even if they wish to. It is doubtful if the advantages of working from home can last for a long while once everything stabilizes. Mr. Bloom's co-written study on Chinese call-center workers is among the minority to evaluate the impact of working from home across many months.
He and his colleagues discovered that, finally, many people were frantic about resuming at their workplaces, mostly due to loneliness. Some companies which experimented with large-scale distant working in the earlier period have eventually forsaken the idea, including Yahoo, a technology firm, in 2013. They later accepted that "some of the best decisions and insights come from the hallway and cafeteria discussions, meeting new people, and impromptu team meetings."
The challenge that bosses will face now will be to discover ways they can preserve and boost the innovation and happiness of their employees despite the commonness in home-working.
The Bailout
One way they can do this is to bring everyone into the office a few days a month. This approach will make workers devote sufficient time to develop innovative ideas with colleagues as they might turn out more productive than previous times.
In 2017, Christoph Riedl of Northeastern University and Anita Williams Woolley of Carnegie Mellon University published a study suggesting that "bursty" communication, where people exchange ideas speedily for a short while, led to improved performance than regular, but distracted communication.
Although several people accept coincidence being useful for innovation as a self-evident truth, the proofs showing that isn't much. Mr. Claudel of MIT says that "a lot of people made a lot of money selling this watercooler idea," referring to the current increase of open-plan offices, co-working spaces, and trendy "innovation districts".
It is not only when you come to the workplace that you can generate bursty communications. For instance, Gitlab, a software company, has been "all-remote" since its founding in 2014. Having no offices, the 1,300 "team members", who live in 65 different countries worldwide come together, at least once a year for team bonding.
Also, companies like Teemly, Sococo, and Pragli have "virtual offices", which eases communication between colleagues, instead of experiencing the issues of setting up a video call. Using video messaging from Loom, a worker can record her screen, voice, and face and instantaneously distribute it to colleagues—more practical than the usual video call, as the video can be sped up or rewound.
Gitlab's workers adopt a "nonlinear" workday—having enough leisure while working. Instead of conversing with their colleagues in live video calls, they use "asynchronous communication", which involves sending their co-workers pre-recorded video messages.
More common working from home will as well require the utilization of new hardware and the removal of other sorts. Currently, several companies use big data-centers, but these are now seen as less efficient since more people work from home. Goldman Sachs guesses that investment in traditional data infrastructure will reduce by 3% a year from 2019-25.
Employment Law And Policy Implementation Implications
All of this will affect public policy widely. Currently, it is not possible to identify if home-workers will be able to easily bargain with their employer for an increment in salaries or enhancement of their working conditions. It could be a very funny sight and unappealing to ask for an increment via a video chat.
Employers could as well easily sack distant workers as it could seem harder when face-to-face. Hence, there should be an outcry for governments to protect home-workers from such issues.
Jeremias Adams-Prassl of Oxford University equally argues that employment law will be another setback. As the present increase of the gig economy has raised questions and court cases about the meaning of an employee or a self-employed person, the enlarged fame of home-working pressurizes laws which were made based on the supposition that people would be toiling away in an office.
No consensus has been reached about how firms can monitor their staff in a world where there is no breezing in and out of the physical offices. There are potentials for conflicts to exist between employers and their staff that work from home.
Some of these conflicts draw up several questions like the necessity for businesses to pay for the internet connection the staff use to work at home or the heating expenses during the winter season. It would not be easy to tackle such questions, but governments and firms have to grab the moment.
Even though the COVID-19 pandemic came with a lot of worries and deaths, it has given the world a chance to rewire the working sectors and give working a new look.