Gold bears are targeting lower prices.
Spinning top from yesterday's session on the Daily chart.
Price retraces to test the neckline of a head & shoulders on the 2-Hourly chart.
Recap From Earlier This Week
On Monday 24th, we looked at the slight bounce in Gold prices out of the minor support potentially forming a double bottom on the Daily chart. We also mentioned that the bounce was not strong enough and that prices could likely test the support again and reach the first bearish target of $1,622.2. The article is available here.
The Daily chart shows signs of rolling over, with Thursday's session printing a spinning top and today's candle looking likely to close well below the low of yesterday's candle.
Price Retests Neckline Of Head & Shoulders
A Head & Shoulders pattern has been formed on the 2-Hourly chart from around October 1st to 15th. The gold price proceeded to break out below the neckline and traded lower before finding support at the yearly low, which is the double bottom formation on our daily chart above.
As price rallied to test the neckline, it failed to break through and began falling again. With that in mind, there could be a higher probability right now that gold heads lower to test $1,628.5. We may expect to see a considerable amount of buying power than usual at these levels because of the double bottom and the level at which the yearly low resides.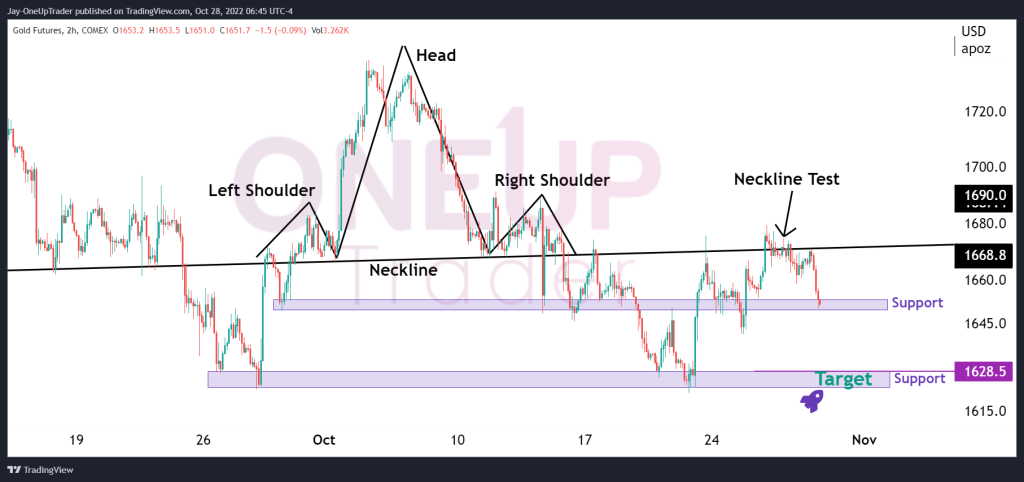 Summary
Gold bulls are clearly struggling to gain a footing as each rally slowly loses steam and gets sold into. The charts are telling us lower prices are more likely than higher ones from here. We must see the neckline continue to act as resistance. If the price breaks back above it, the bear case weakens.