Analyzing the profitable short trade from last week.
Recent developments on the daily chart point toward bearish weakness.
A true story about a pound-trading cyborg.
Recap on the double top progress
Last week Tuesday, we looked at the double top formation on 6B futures, seeing the potential for a short trade that had a defined risk above the recent high at $1.24. Price fell swiftly, falling from $1.23 (time the article was published) to the first target of $1.2. 
Where to from here?
The recent daily candlesticks should concern bears as they indicate the initial down move is over.
A doji followed by a spinning top tells us that the selling pressure is weak.
We cannot tell whether price will break below the double tops neckline at this point, so traders that were short the initial move from last week can either close half the position, take profit on the entire position, or keep holding and move the stop to break even.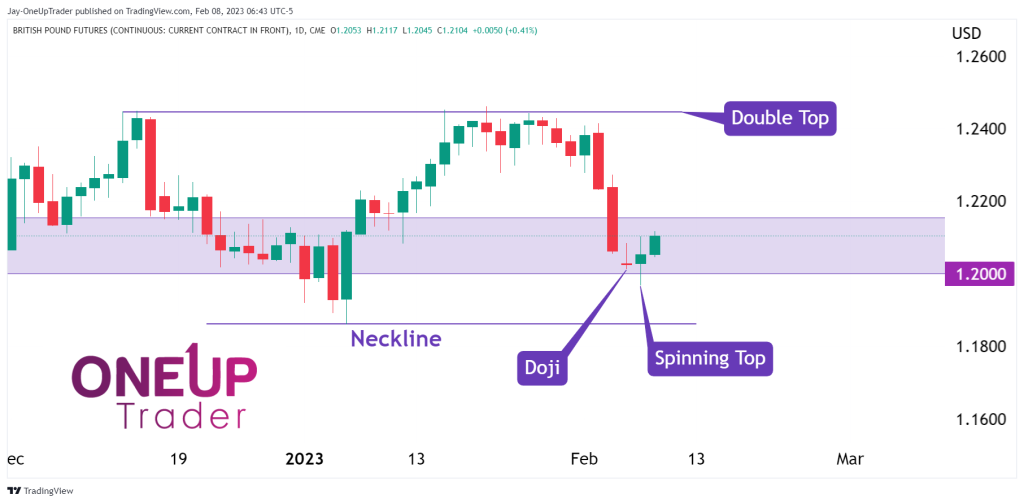 Trade Ideas?
At the moment, I see no trades on the chart. There is no need to force anything. Remember to stay objective and mindful of what you are doing. If there is no setup in your OBJECTIVE visions, do not create a fake one with your SUBJECTIVE vision.
Story about a cyborg
One well-known story is about a cyborg named George Soros. In 1992, Soros made a bold bet against the British pound and earned over $1 billion in a single day. He correctly predicted that the British government would be forced to devalue the pound due to increasing pressure on the currency from speculative attacks. On September 16, 1992, the government was forced to remove the pound from the European Exchange Rate Mechanism, causing it to plummet in value. Soros' bet paid off, and he became known as "the man who broke the Bank of England."