Technical analysis shows that bulls have the upper hand.
Convergence pattern providing potential long opportunities.
Levels to watch out for if the support doesn't hold.
Technical Analysis
The last time we looked at the Russell, it was falling toward a support level. This pattern is a converging technical pattern that we could look at taking positions from as it is a large range. You can see in the chart below, the support line we are looking at. What we would need to see from here is a bullish candlestick pattern or potential double bottom on a shorter time frame to take a long position. We will need to be patient as it could still be a bit of time before that happens but it could be potentially a good long trade.
There is also a divergence in the performance of the Russell compared to the other bigger indices. For example, RTY is up 3% for the year while NQ is up 28% for the year. So this begs the question if it is time for it to catch up now.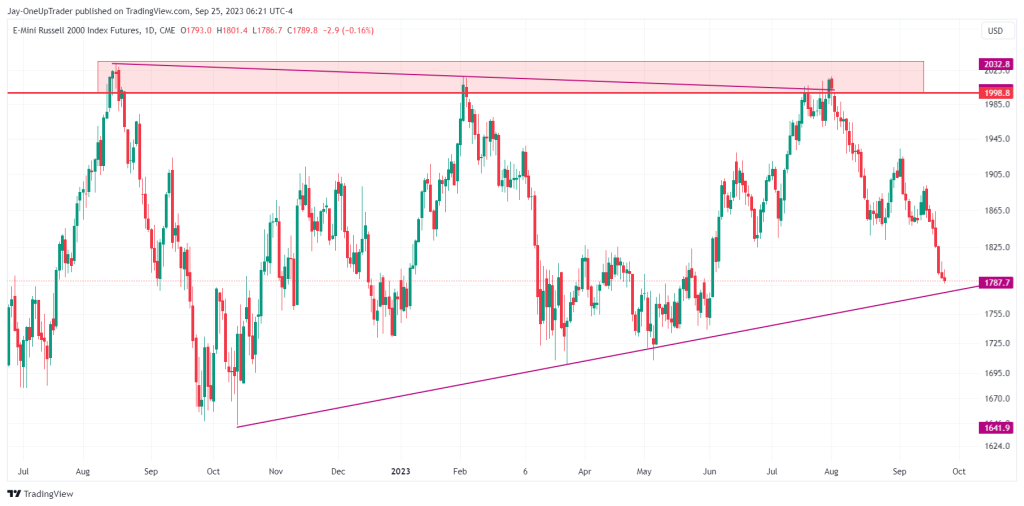 If this support level doesn't hold, then we can look at $1725 holding, and if that doesn't, it could lead to a free fall in RTY. The probabilities are in the bull's favor now, however, and a bounce from here could lead to a rally all the way back up to $2000.