Gold's support zone bounced, with a 1.57% rally. Question now: Will it retest support?
Declining volume amid falling prices (bullish). The support zone held, sparking a significant bounce.
Key Levels: Watch $1,924.4 (support) and $1,831.9 (bearish). Potential profit-taking at $2,048.7 (resistance).
Recap
Two weeks ago, we looked at GC and the potential for price to first, fall within the support zone then bounce out of it. Gold rallied 1.57% on Wednesday, surging out of the support zone with tremendous conviction, but the question is whether we see the price testing the support zone again in the next few days?
Technical Analysis
Volume Decreasing (BULLISH): The volume has been decreasing since the end of July, and since the price has been falling, this can be viewed as a bullish sign. It shows us that there is less and less interest in selling even though the price is falling.
Support Zone (BULLISH): The support zone held as GC retraced into it. We saw a huge bounce off the support zone, which led Gold to rally 1.57% yesterday (Wednesday).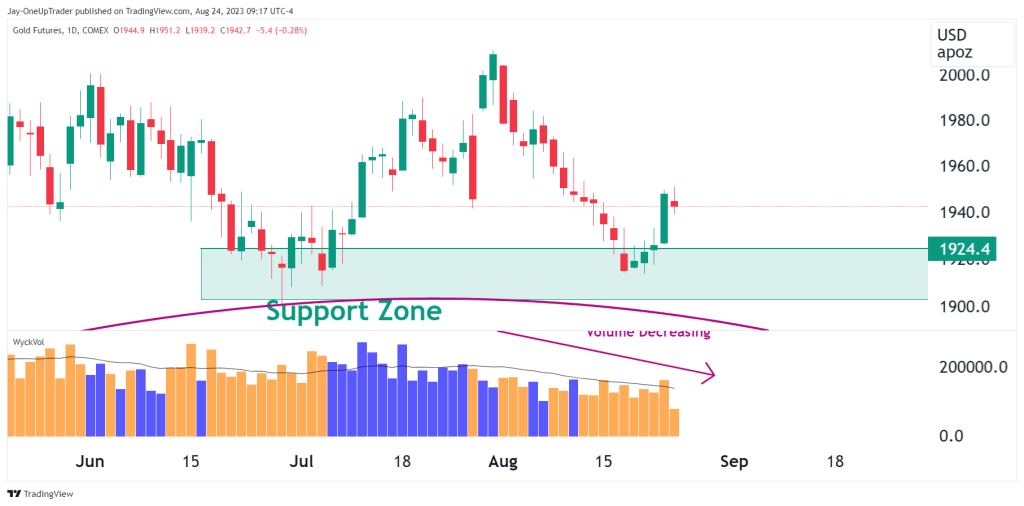 Levels To Be Aware Of
The first and most obvious level is $1,924.4, which is the support zone that GC recently bounced out of. Bulls must see this level hold in order for the market sentiment to remain bullish. If we see price break below this, the next bearish price level is $1,831.9. A rally from current levels could lead to Gold heading toward all-time highs. Traders who go long could take profit earlier, however, at around $2,048.7, which would be the first major resistance level moving upward.