Analyzing the CPI report and what effect its had on the Dollar.
Questioning whether the sentiment is beginning to shift.
A simple pullback strategy that is yielding great results in the Euro Futures contract.
CPI Numbers In Line With Consensus
In December, the annual increase of the consumer price index (CPI) in the United States was 6.5%, which is a decrease from the 7.1% increase in the previous month and also a slowdown to a 0.1% increase month over month. The results align with the predictions made in a survey by Bloomberg, indicating that the aggressive actions taken by the Federal Reserve to control inflation are starting to produce results.
Dollar (DXY) & Euro Futures (6E) Reaction
The Dollar plunged 0.78% as the market digested the numbers. Inflation is starting to trend in the direction the Fed wants, likely leading to an ease in monetary policy.
Traders looking to take advantage of the weakening Dollar could have bought the 6E futures contract, which rallied 0.78%, as it's the way to trade the EUR/USD forex pair as a futures contract.
Simple Strategy For Entries
Earlier last year, we posted a strategy where we applied two moving averages and entered the market on pullbacks within the moving average zone. There is no need to complicate things, and this strategy has yielded excellent results from the recent up move in the Euro. You can view the system here.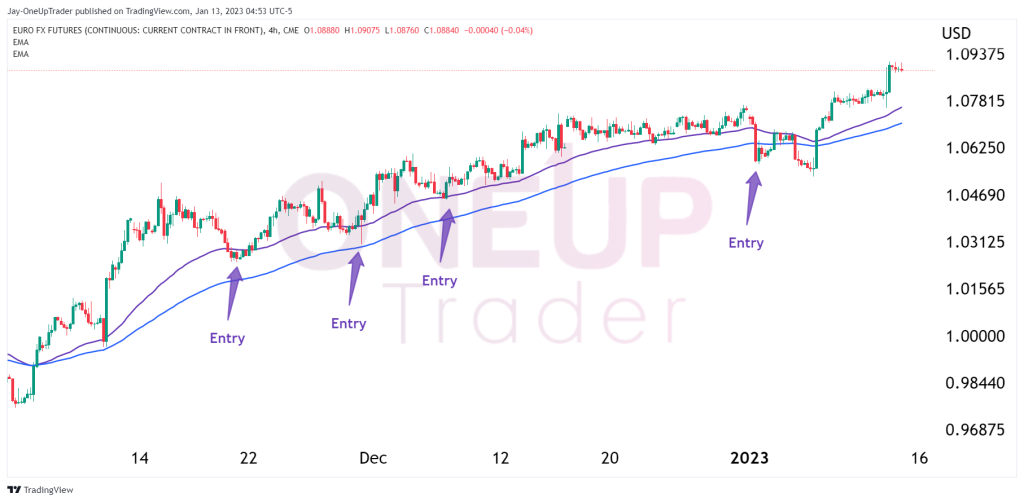 Summary
As the market digests the recent inflation report, sentiment is beginning to shift as the Fed's monetary policy appears to be working. This is going the power in favor of the Dollar Bears. If this continues and we get a Hawkish tone out of Powel in the next FOMC meeting, indices would likely have bottomed.