The US labor market remains tight, with job vacancies rising more than expected.
A tight labor market means still-high inflation dashing hopes for a Fed pivot.
US industrial activity grew at its slowest pace in over 2-1/2 years in October.
The prices of major equity futures indexes, including the E-mini Nasdaq-100 (NQ) futures, fell as investors worried about whether the US Federal Reserve would hint at a slower pace of policy tightening. The number of job openings in the US rose unexpectedly in September, showing demand for workers stayed high. The Fed will likely keep up its aggressive interest rate hikes as this report shows inflation is still high in the US.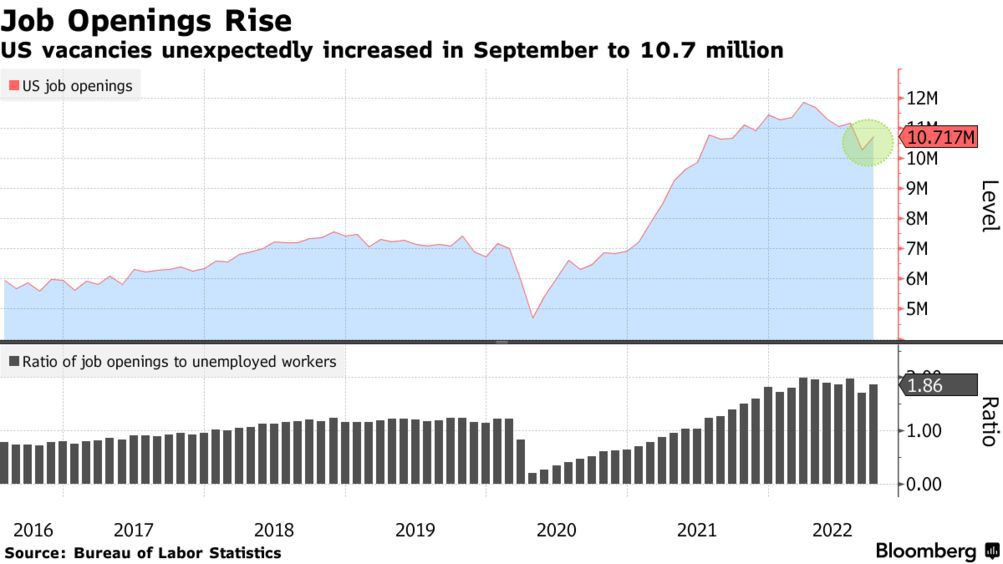 Investors will keep a close eye on data about the job market to see if there are any signs that the job market is slowing down. This will give the Fed a reason to start slowing down by only raising rates by 50 basis points in December.
The focus on labor market data overshadowed another report that showed industrial activity in the US grew at its slowest rate in over 2 1/2 years in October. This was because rising interest rates made consumer demand go down.
"That is the concern for the market; we know the Fed wants to slow down the labor market. They want to slow down hiring so demand drops in the economy, which will help inflation," said Anthony Saglimbeni, chief market strategist at Ameriprise Financial in Troy, Michigan.
Markets rose in October, hoping the central bank would pause in December. This hope was fueled by data showing that the economy was deteriorating. A better-than-expected corporate earnings season also supported the rally.
The Fed is expected to hike interest rates by 75 basis points on Wednesday following its two-day meeting. Investors will be on the lookout for any signs that the Fed may be considering lowering the pace of rate increases in the future.
Markets had perceived last week's ECB meeting as slightly dovish. However, ECB President Christine Lagarde stated in an interview on Tuesday that the central bank must continue hiking rates to combat inflation, even though the likelihood of a eurozone recession has grown.
During its meeting this week, the Bank of England (BoE) is also scheduled to announce a 75 basis point rise. Then, according to traders, the BoE will slow down and increase rates by 50 basis points in December.
Investors are paying close attention to global central bank policies for signs of any slowdown. Signs of a slowdown would probably support a bull rally in the major equity indexes.