Investors did not make significant bets as they awaited fresh US debt ceiling talks.
St. Louis Fed President said the Fed would likely raise rates by 50bps later this year.
European stocks remained unchanged as investors awaited the outcome of US debt ceiling talks.
US Equities had a mixed finish on Monday as the Nasdaq benefited from gains in Alphabet and Meta Platforms, while the S&P 500 remained nearly unchanged. Investors chose not to make significant bets as they awaited fresh talks about raising the US debt ceiling.
US President Joe Biden and top congressional Republican Kevin McCarthy scheduled a meeting on Monday to discuss raising the federal debt ceiling. This meeting occurred ten days before the United States could experience an unprecedented default.
Elsewhere, the St. Louis Fed President James Bullard said the Fed might need to raise its benchmark interest rate by an additional half-point later this year. Consequently, the value of the US dollar increased.
Throughout the week, investors will seek hints about monetary policy from various Fed speakers and important data points. These include the April personal consumption expenditure (PCE) index and durable goods.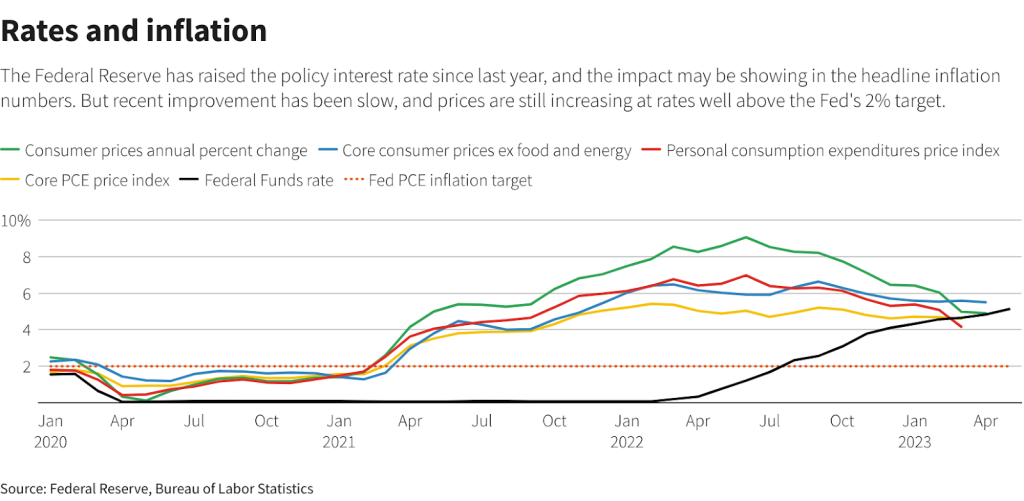 The Fed's preferred inflation measure, the PCE index reading, will come out on Friday. The reading will show whether the Fed needs to do more to tame inflation.
The market was lifted by technology-related stocks, including a 1.87% rise in Alphabet Inc and a 1.1% increase in Meta Platforms Inc.
Beijing prohibited chipmaker Micron Technology Inc from selling memory chips to important domestic industries, increasing US-China trade tensions. This move caused Micron's shares to decrease by 2.85%.
The news of PacWest Bancorp's agreement to sell a portfolio of 74 real estate construction loans to a subsidiary of Kennedy-Wilson Holdings Inc boosted regional banking stocks. As a result, PacWest shares surged by almost a fifth.
On Monday, European stocks remained unchanged as investors awaited the outcome of US debt ceiling talks. They also assessed the monetary policy outlook in the United States and Europe.
Meanwhile, Francois Villeroy de Galhau, a French ECB policymaker, mentioned that the European Central Bank's interest rate hikes are likely to peak by the end of summer. However, the focus was on how long rates would stay elevated rather than the specific level.
On the other hand, ECB Chief Economist Philip Lane emphasized that the central bank's policies were effective, and investors appeared confident in its ability to lower inflation to its 2% target.